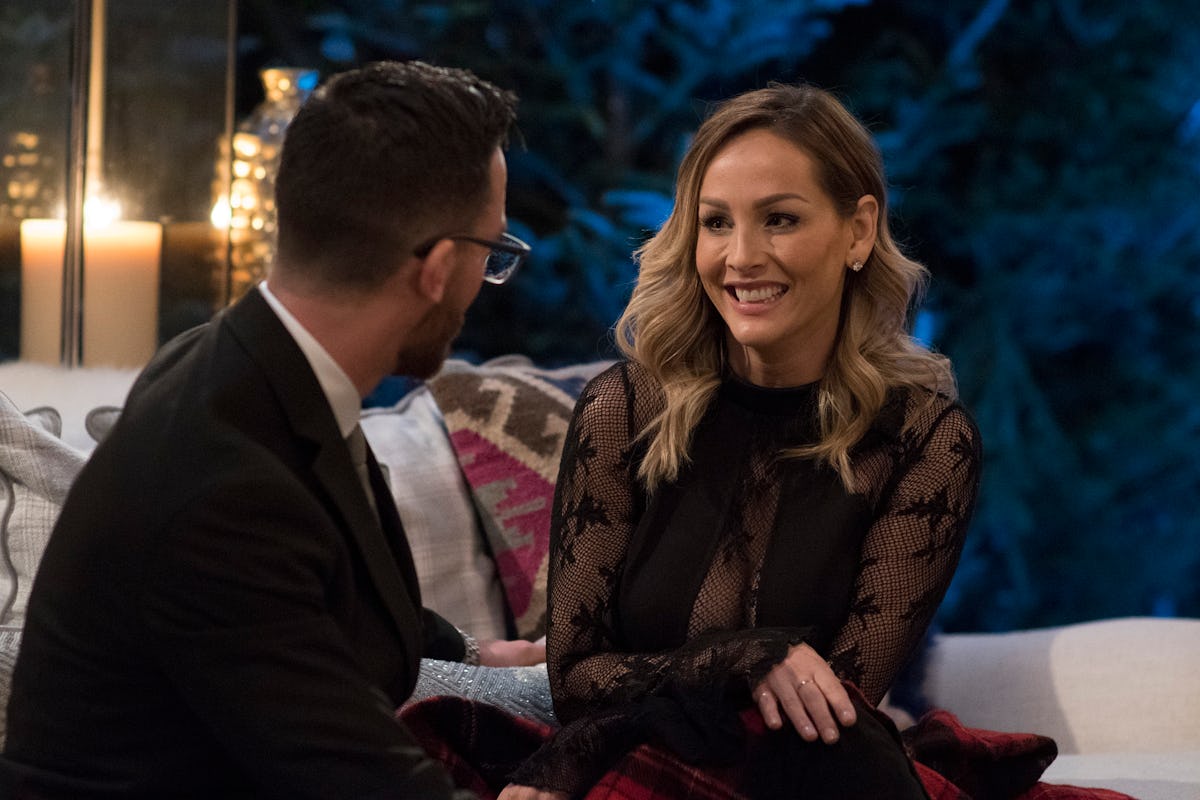 Clare From 'Bachelor Winter Games' Actually Runs A Thriving Business Outside Of The Show
It's been a few years since Bachelor Winter Games contestant Clare Crawley appeared on the franchise. Since she last starred on Season 2 of Bachelor in Paradise in 2015, Clare has kept a healthy distance away from Bachelor Nation. While contestants from more recent seasons have grown accustomed to an immediate social media following after being on the show, Clare comes from a more innocent time in Bachelor history. Since she doesn't seem to be one of those contestants making a living off of Instagram sponsorship, what does Clare from Bachelor Winter Games do?
The 36-year-old from Sacramento first appeared on Season 18 of The Bachelor as a hairstylist. Before competing for the heart of Juan Pablo Galavis in 2014, Clare's hairstyling services were advertised on a site for the East Sacramento salon De Facto. However, given the fact that the website's most recent blog posts are from 2013 and any photos on the page are from an expired hosting account, it was initially difficult to tell if Clare still works there.
The salon itself is still running, and a booking page for clients interested in Clare's color service remains open. If you scroll through her Instagram page, she mentions restocking merchandise at De Facto in a May 2017 post.
It looks like Clare is a notable exception among Bachelor alums in that she has maintained a normal career even after becoming a reality TV star. As she ever so politely informed a Twitter troll during the airing of a Bachelor Winter Games episode, it seems that she even has some kind of ownership of De Facto. You go, girl!
In a February 2017 podcast interview with spoiler guru Reality Steve, Clare shared that finding fame through her Bachelor appearances was never her plan:
I didn't want to be famous, I didn't care, I wasn't trying to make it big or be in the spotlight. I don't care about that kind of stuff, so for me, I was like, 'I just want to get back to normal life!'
In addition to helping run a thriving hair salon (Yelp users love it!), Clare does plug Bachelor Nation favorite HelloFresh every now and then. Seeing as she's usually not one for sponsored posts, I can only imagine that Clare's support means that HelloFresh is worth all that hype from Bachelor alums.
When she's not working, the hairstylist leads a life that any independent, single woman would be proud of. She knows when to take a break from work and spend some relaxing time outdoors with an adorable canine companion.
She also shares sneaky food hacks with her followers like the wise big sister you always wanted.
Clare even takes the time to celebrate her female friendships, like her newest bond with fellow Bachelor Winter Games contestant Lesley Murphy. Get you a best friend who will make sure your legs are good to go for your big date, ladies.
While recently promoting Winter Games, Clare further emphasized her role as the new patron saint of single women everywhere. Speaking to Entertainment Tonight, she referenced Bachelor Season 22 contestant Bekah M.'s age when discussing the role of age in the franchise:
In my eyes, to lean towards more of the older crowd is more appropriate because you see these girls that are 21, 22 and at that age … I didn't even know myself at that age, so how do you expect to be ready for a relationship? But the funny thing is I find the backlash is more for the older crowd, for the people like me that people are going, "Why are you still doing this? You're 36!" … There's so much backlash on being my age and being single. It blows my mind, and it's like, what's the alternative? Being my age and having settled for someone that's not right for me? Because I think at this age, I know exactly what I'm looking for. I know exactly what I want. And that, to me, is a better opportunity, versus somebody who doesn't really fully know themselves coming in. … I'll wait forever. You know, I don't care if I'm 45 or 55. I'd rather be single and living my life and having a happy life than settling for somebody that's not right for me.
Keep doing you, Clare. You're clearly winning at life.
We'll see if Clare's relationship drama on Winter Games continues when Bachelor Winter Games returns on Tuesday, Feb. 20 at 8 p.m. ET on ABC.