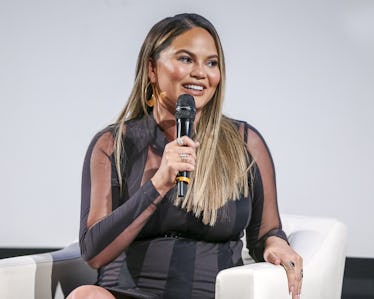 Chrissy Teigen Revealed What Her Son Looks Like & He Shares This Feature With Luna
Rich Polk/Getty Images Entertainment/Getty Images
GUYS!!! Details are finally coming out about Chrissy Teigen and John Legend's baby boy and I, for one, am more excited than I should probably admit. Teigen announced in the early morning hours of May 17 that she had given birth to her second child, a son, who she has not revealed the name of yet. (Rude. JK. Not really.) But now, Teigen is opening up and giving us a few, albeit tiny, details about the newest addition to her family. What does Chrissy Teigen's son look like, you might ask? Well, he shares one really cute feature with his big sister, Luna.
We first found out Teigen was pregnant with her second child back in November of 2017, when she posted the cutest video EVER to her Instagram page of her daughter, Luna Stephens. In the video, Teigen is sitting on the couch with Luna. Teigen asks, "Luna, what's in here?" as she points to her stomach. Luna replies, "Baby!" I CAN'T. TOO CUTE. We also found out from Teigen in January 2018 that she was expecting a baby boy. She posted a gorgeous photo of herself on the night of the 2018 Grammy Awards with a caption that read, "mama and her baby boy." UGH!! I SERIOUSLY LOVE IT.
As for the arrival of Baby Boy Stephens, Teigen went really simple for the announcement. She sent out one vague tweet reading, "Somebody's herrrrrrre!" with some baby bottle emoji. It's now a full day after that initial announcement, and we haven't gotten any details on the name of the baby. BUT, we do know a little bit about what he looks like.
On Friday, May 18, a fan tweeted at Teigen asking, "Does he look like Luna?" Teigen replied,
Same nose! He is a few weeks early so he's litttttttle and makes the teeniest noises. We are in love.
My heart is melting. Luna is already the cutest child in the world... I can't even imagine a baby boy that looks just like her, too!
Another fan tweeted at Teigen saying, "Will you do right by him? Will you have what he requires?" and Teigen just replied "Lol." Gotta love the Queen of Twitter.
Hopefully, it won't be too long before we learn the name of Teigen and Legend's baby boy. Back in February, Teigen was a guest on The Ellen DeGeneres Show and opened up about some of the names she had in mind for her son. She said,
Boy names are really tough and I don't think he will even have a middle name because we can't even come up with a first name. I'm toying with Dick Legend a lot. Can I say that?
Please no, Chrissy. Don't do it. I beg you.
Teigen says she did consider John Legend Jr., but her husband shot that idea down real quick. She told Ellen, "John and his ego was like, 'I don't want him to feel like he has to live up to that,' and I was like 'Wow, you are a jerk.'" Amazing.
While we wait to hear Baby Legend's name, we just hope mom and baby are both happy and healthy. Teigen was open about her struggles with postpartum depression after her first pregnancy and spoke about them candidly in an interview with Refinery29. She said,
When I was in the midst of everything, I could never imagine myself on the other side of it. Now, I'm able to look at September, October, November, December, and shake my head at how dark and crazy of a period it was. Unfortunately you can only really do that when you're out of it. There's no other way to explain it. And there's no better feeling than being out of it. Of course, you have your good and bad days. I just had a bad day a couple days ago. But the bad days do not outweigh the good days anymore. Just when you think it's really really bad, it's going to get better. So hopefully, if you're going through something tough you can find some peace in knowing that.
I'm rooting for you, Chrissy, and can't wait until you bless me with some adorable baby pics!