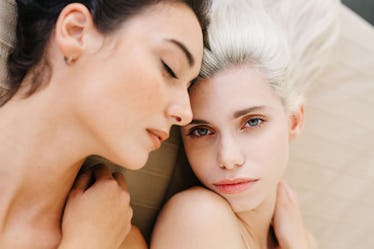 Your Favorite Sexual Fantasy Reveals Everything About Your Personality Type
Like breathing, walking or blinking, having sexual fantasies is very much part of the human experience. That's right, people. Whether we admit it or not, sexual fantasies are perfectly normal and we all have them. In fact, according to a recent study, we can learn a lot about who we are based on them. In a recent study of over 4,000 Americans, sex educator and researcher Justin J. Lehmiller looked into what sexual fantasies mean about your personality. His results were pretty dang interesting.
The more than 4,000 people Lehmiller surveyed online for his study came from all sorts of backgrounds: they ranged from 18 to 87 years old, had a variety of sexual orientations, and represented both ends of the political spectrum.
So, what were people asked in this huge survey? Well, for starters, they were asked to describe their favorite sexual fantasy in their own words. Additionally, they were also asked to answer 369 other questions mostly regarding all of the other things they could possibly have had fantasies about.
On top of the sexual questions, the participants were also asked to give some information on their personality types. This meant they rated how much they related to each of what psychologists call "the big five" personality traits.
What are "the big five" personality traits, you ask? Allow me to share: extroversion, openness to experience, conscientiousness, agreeableness, and neuroticism. In the end, he found that people's personality types were deeply interconnected with their sexual fantasies. "Our fantasies seem to tell us something important about who we are and where we are in our lives at any given moment," Lehmiller told HuffPost.
You can read about his findings in more detail in his book, Tell Me What You Want, but I'll give you a brief summary below.