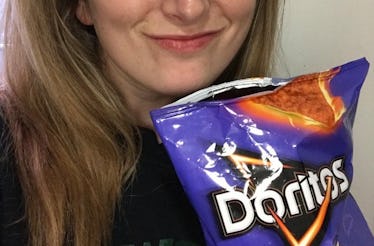 Doritos Blaze Taste So Different From The Others & Definitely Live Up To Their Name
Lizzy Rosenberg
I'm always down to turn up the heat, and while Flamin' Hot Cheetos often steal the show, there's a hot new snack in town. For those who like to live life on the edge with a kick, Doritos debuted their newest flavor, Doritos Blaze, on Jan. 4. And even though Doritos Blaze might have some craving a glass of water, they really just have me waiting until it's not embarrassing to go back to the bodega for another bag. So if you're wondering what Doritos Blaze taste like, let me tell you, they're crunchy, they're hot, hot, hot — and they're honestly the key to my spicy soul.
Upon sticking my face into a bag of Doritos Blaze (because, that's obvi how every Dorito-eating sesh starts), wafts of garlic bread meet hints of Franks Red Hot sauce. Whoa. Not even exaggerating, it smells really freaking good. After reaching my hand into the bag to grab one of those crunchy lil' chips, I'm already licking my fingers clean of what I like to call "Dorito dust," aka the most undeniably sexy and delicious part of eating Doritos. Don't deny it: Licking your fingers is vital in eating Doritos, and everyone knows that. The prized "Dorito dust" flavoring each little Dorito Blaze chip emits strong flavors of jalapeño peppers and garlic. At this point, I'm honestly salivating... literally. This is a pretty nice, spicy preview to what's about to happen, and I can already feel the burn.
Biting into each Dorito Blaze chip has the same satisfying, crunchy effect as all the other Doritos flavors. With the perfect kick I crave in literally every snack food, my heart starts beating just a little faster. My crunches per minute (CPM) just about double, and pretty soon, I've already finished way too much of the bag to be proud of (er, let's face it: I'm pretty proud). So instead of wallowing in my own lack of self-control, I get up to drink some water. Hydration is key to eating Doritos Blaze! The after-taste of too many Doritos Blaze kind of has my mouth vibrating a little bit, and each chip definitely packs a punch. But it's okay. Again, I like it hot.
So, you're probably wondering what my official verdict is on Doritos Blaze, as a spicy snack aficionado... and it's definitely not for the faint of heart, nor the weak of mind. But if you can handle a little sass at snack time, Doritos Blaze might honestly be the snack you've been waiting for. My honest opinion is that if you're ready to take a wild ride to Flavor Town (thank you, Guy Fieri), then I know, without doubt, that you're probably ready to snag a bag for yourself. If you lack self control but also don't mind going through an entire bag of Doritos (because why not), then they're totally perfect.
If you haven't already seen PepsiCo's Doritos Blaze vs. Mountain Dew Super Bowl commercial, you're totally missing out. It's basically an epic rap battle, in which Missy Elliot and Morgan Freeman fight for Mountain Dew's Mtn Dew Ice, against Peter Dinklage and Busta Rhymes, who are (obviously) repping Doritos Blaze. In the ad, Dinklage raps "Look at Me Now," by Busta Rhymes, and Freeman gets jiggy with "Get Your Freak On" by our fave 90's rapper, Missy Elliot. The ad will officially air on Feb. 4 during the Super Bowl, and it's undoubtedly going to be the total highlight of the football game (in addition to all of the Doritos I'll be eating).
Check out the entire Gen Why series and other videos on Facebook and the Bustle app across Apple TV, Roku, and Amazon Fire TV.