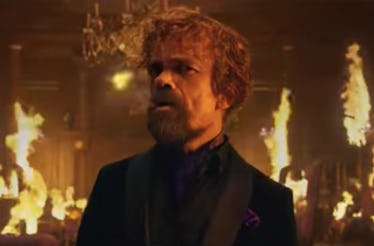 Watch Peter Dinklage Rap In This Epic Doritos Blaze & Mountain Dew Commercial
The Super Bowl is one of the biggest holidays for football fans... like, some people actually treat it like Christmas. But what I really look forward to is the Puppy Bowl (because, duh), the halftime show (especially when it involves Queen Bey), and most importantly, some of the most innovative and star-studded commercials on television. If a large portion of my friends weren't major sports fanatics, I'd basically have the game on mute, while blasting the volume during each glorious and unforgettable commercial break. And if you haven't already seen the Doritos Blaze Vs. Mountain Dew Ice Super Bowl commercial, it'll definitely get you pumped, because it features an epic rap showdown.
While we know for a fact that no rap battle can ever surpass Tupac and Biggie's, we will say that PepsiCo just came out with a pretty epic showdown of their own. Missy Elliot and Morgan Freeman are fighting for Mountain Dew's Mtn Dew Ice, while Peter Dinklage and Busta Rhymes are all about those Doritos' Blaze chips. And since everyone loves a sweet rap battle — especially between two iconic celebs — it's safe to say that watching them fight it out in style was truly what we were all waiting for. Dinklage and Freeman really are lip-synching pro's, and I may seriously have to take some notes for next Thursday's karaoke night.
In the face-off, the Game of Thrones hero breaks down Busta Rhyme's classic "Look at Me Now," and Freeman bravely takes on my choice '00s jam, "Get Your Freak On" by Missy Elliot. What we're most excited for, however, is that both esteemed rappers actually make guest appearances alongside their rap newbie counterparts, taking on the role of rap battle coaches. This surreal showdown is set to air during the Super Bowl, on Feb. 4, according to a press release sent to Elite Daily by PepsiCo — and we're just hella excited to see it air on live television.
The best part of the ad is that during the Super Bowl, fans will actually be able to cheer on their favorite lip-syncing rapper through a sweet Snapchat lens. The idea is that Snapchat users will then perform original rap battles of their own by using the filter. Between a steady supply of beer and all of that good old fashioned football hype, we're really expecting some pretty hilarious and over-the-top results. Some superstars might emerge from this glorious Snapchat opportunity, and we're really looking forward to it.
According to PepsiCo's release, this will be the first nationally televised Super Bowl commercial that features one company marketing two of their brands at the same time. It's honestly not a bad tactic, since Doritos and Mountain Dew are some pretty awesome faves. What a time to be alive, to witness Doritos and Mountain Dew actually making Super Bowl history. We never expected this, but it feels so right. The two celebs kill it on camera, and it's really making us excited to see all of the amazing commercials to come for this year's Super Bowl/cool commercial Sunday.
In terms of some other iconic Super Bowl ads, you've probably already witnessed Bud Light's latest and greatest brain child, "Dilly Dilly." Stemming from Bud Light's most memorable commercial last fall, "Banquet," "Dilly Dilly" became an iconic cheer that everyone shouts, with little knowledge to its meaning. A "Dilly Dilly" series already exists, and we're really anticipating its presence among Bud Light advertisements this Super Bowl Sunday. We don't know how exactly "Dilly Dilly" will make its way into the big game, but we know for a fact it'll make an appearance.
Check out the entire Gen Why series and other videos on Facebook and the Bustle app across Apple TV, Roku, and Amazon Fire TV.