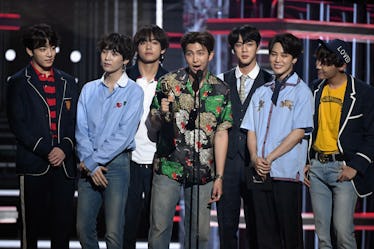 Here Are The Countries BTS' 'Burn The Stage' Movie Will Be Premiering In So Far
Ethan Miller/Getty Images Entertainment/Getty Images
Is it Nov. 15 yet? Is it?! I mean, I know it's not. But the countdown is on until Burn the Stage: The Movie drops in theaters, and OMG I seriously cannot wait. Now here's a question for you: Did you score your tickets yet? Because they are already on sale, you guys! And if you didn't know that before I just told you, I'm not even sure if you'll be able to get your hands on 'em anymore, because the competition for these babies is fierce! I mean, this is the first-ever BTS movie being released in theaters internationally, and it's got all kinds of cool behind-the-scenes stuff from the K-pop boys' Wings tour, so you def don't want to miss out. What countries will show Burn The Stage? The film will be available for limited screenings in select cities. But don't worry, I've got the full list for you!
Are you ready? According to an official BTS press release, tickets for the film are now on sale in the following territories: Albania, Argentina, Australia, Austria, Belgium, Brazil, Brunei, Canada, Chile, Colombia, Costa Rica, Croatia, Denmark, Dubai, Ecuador, El Salvador, Finland, France, Germany, Greece, Guatemala, Honduras, Hong Kong, India, Indonesia, Ireland, Iraq, Lithuania, Luxembourg, Macedonia, Malaysia, Mexico, The Netherlands, New Zealand, Nicaragua, Norway, Panama, Peru, Philippines, Portugal, Puerto Rico, Serbia, Singapore, Spain, Sweden, Switzerland, Thailand, the United Kingdom, Uruguay, the United States, and Vietnam, with more countries to come on a later date.
Did you click over to the movie's website and go buy them yet? OK, good. Now here's a little background about how this whole thing came to be. Burn the Stage: The Movie was directed by Park Jun Foo, and was built off the pre-existing YouTube series of the same name that launched back in March 2018 on YouTube Red. Not only will fans get to see concert footage and all that behind-the-scenes stuff from the BTS world tour, but there will also reportedly be a bunch of never-before-seen interviews from members Jungkook, V, Jimin, RM, Suga, J-Hope, and Jin. So get ready, ARMY, because this shiz is about to get so real.
Meanwhile, since ticket sales started today, Oct. 22, my Twitter feed is currently blowing up with posts from fans who managed to score those highly-coveted babies:
It's all just so exciting! Especially coming on the heels of the surprise BTS just dropped on the ARMY on Oct. 20, with the announcement of a surprise project on Twitter. ARMY members basically had just a hot sec to absorb the news that the band's leader, RM, had a new collection of songs coming out called mono. And because the playlist dropped on Oct. 23at midnight KST, you lucky AF humans in America can already listen to the playlist even though it's still technically Oct. 22.
There are seven new tunes on this thing, you guys — seven! — as well as a pretty dope music video for the song "Forever Rain."
Check it out:
So good right?
Fans can download "mono." right now using the links BTS provided on Twitter:
Movie tickets and a new playlist?
It's definitely a good day to be a member of the ARMY!