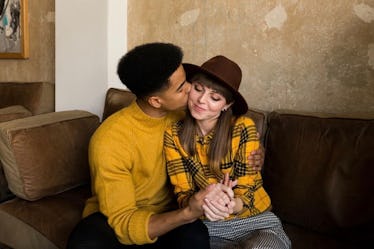 What Coming Out In A "Straight" Relationship Is Like, According To 6 Queer People Who've Done It
If you identify as bisexual, pansexual, or sexually fluid, you've probably faced a different set of challenges than someone who's gay or lesbian. You may have dealt with homophobia from straight folks, but biphobia exists too, and it's a double-whammy. Both straight and gay people alike might tell you that your bisexuality is just a "phase" or a stepping stone to being "actually gay for real." Another form of bi-erasure can happen when you're in a straight-passing relationship, aka a relationship with someone of a different gender. Coming out is already hard, but coming out while in a "straight" relationship can be extra tough for bi and pan folks because of all of that extra social baggage.
I'm a bisexual femme who's only had one serious, long-term relationship with a woman. When most people see us together, it's generally easy for them to wrap their heads around us. But my girlfriend, on the other hand, has had serious relationships with women and men. When she was about 15 years old, she was dating a guy we'll call Jared*. By then, she was also out to her immediate family and friends as pansexual. When she'd meet new people and mention her past relationship with a woman, they'd respond with reactions like, "Wait, I thought you were with Jared?" or "Aren't you with a guy right now?"
Now that she and I are dating, she might start a story with, "A couple years ago, my ex-boyfriend..." and get the same befuddled response. Her experience is far from unique, especially when it comes to coming out in a straight-passing relationship. Here are six other women and femmes on what their experiences were like.