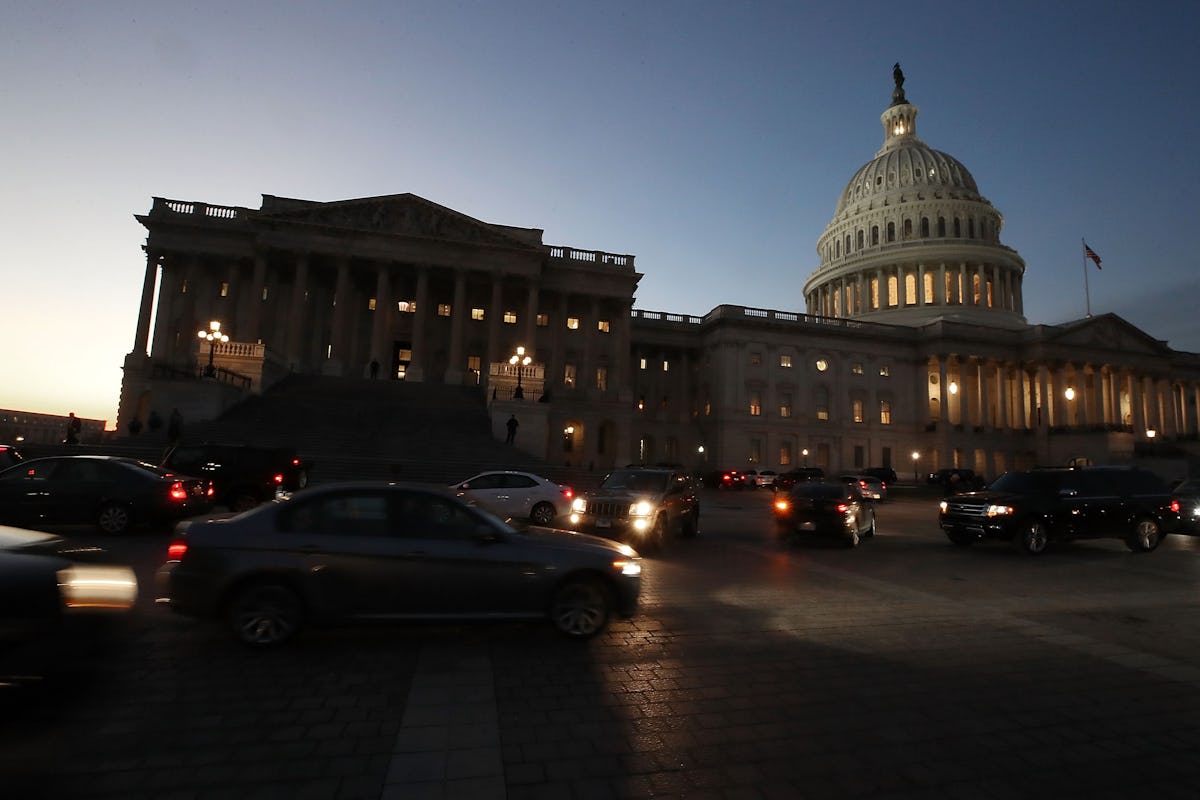 You May Need To Change Your Travel Plans If This Government Shutdown Really Happens
Mark Wilson/Getty Images News/Getty Images
On Friday, Jan. 19, America awaits a Senate vote on a temporary spending measure to fund the government before it officially runs out of money at midnight. It appears to be more likely than ever that the federal government will be shut down. If you're wondering how this might affect you, here's what closes during a government shutdown.
A spending bill to fund the government through Feb. 16, known as a Continuing Resolution (CR) or stopgap measure, passed the House on Thursday. But the measure needs 60 votes to pass the Senate, and many Democrats are in a position to use the bill to force agreements on issues such as immigration and natural disaster relief. The Washington Post reports that it's likely that the bill won't pass, prompting a shutdown. (President Donald Trump certainly hasn't made things easier for his party.)
The bill is the fourth such Band-Aid solution that Congress has put forth within five months, according to The Hill, as lawmakers have yet to hammer out an official budget for fiscal year 2018.
To clarify, in a shutdown, the federal government doesn't totally close up shop. Some services will be maintained, but it might be a huge inconvenience for a while. The last government shutdown was in 2013 and lasted 16 days, costing the government an estimated $24 billion.
Lights are kept on for the essentials.
Air traffic control, the Transportation Safety Administration (TSA), Social Security Administration, and the U.S. Postal Service will continue to operate, according to CNN. Congress members, by law, will keep getting paid.
Here's what services you won't be getting.
In the last shutdown, according to White House archives, the services closed included national parks and galleries, import and export licenses, federal and private lending to individuals and small businesses, federal permitting and environmental reviews for projects, government-sponsored research, health and safety inspections by the Food and Drug Administration (FDA), oh — and tax processing. (Here's a full breakdown of which departments closed in 2013.)
Passport offices may be partially open, but it's likely they'll face delays in processing requests. So if you've planned a trip to certain national parks or federally funded places, or need to update that passport to for your spring break trip abroad, you might be out of luck.
At its peak, 850,000 employees were furloughed without pay during the 16-day closure in 2013 — for a combined total of 6.6 million days, costing the government an estimated $2 billion just in lost productivity. So if you work for the government in one of these sectors? Your savings account might be feeling it.
And one more thing: if you live in Washington D.C., your garbage collection will stop.
Here's why the bill might not pass.
Why would anyone want to shut down the government? Here's the thing: no one really does. Republicans, with a majority in both houses of Congress, could risk getting blamed by their constituents for failing to get even the most basic bill passed. And Democrats might take heat from voters for refusing to compromise. It's 2018, and the midterm elections are just 10 months away, so unfortunately, that's on a lot of lawmakers' minds as they weigh how to vote. (Though, as FiveThirtyEight's Nate Silver points out, it might not be a make-or-break it issue.)
But pressure to make the right vote is also key to why Democrats (and some Republicans who feel the Band-Aiding has gone on too long and ignores military needs) are taking such a hard line with their vote. Dems have several demands they'd like to see met (and their constituents are likely watching) in order to sign on to the bill.
Perhaps most prominent is a permanent solution on Dreamers, young immigrants brought to the U.S. illegally as children. They are currently shielded from deportation and allowed to live and work temporarily under the Deferred Action from Childhood Arrivals (DACA) program, which is set to end in March at Trump's discretion. All eyes are on whether senators vote the bill through without securing a path for citizenship, or whether they hold their ground on immigration.
Then there's the issue of the border wall, which Trump announced in early January he wanted $18 billion to fund.
As Jimmy Kimmell points out, the Children's Health Insurance Program (CHIP), which provides coverage for nine million low-income children, has also run out of funding. The GOP has offered a provision to re-authorize it in the short-term bill as a way to sweeten the deal. But it's unclear that this will bring in the votes.
After adjourning Thursday night with no clear majority, the Senate is scheduled to reconvene Friday at 11 a.m. ET. The federal money will officially run out as of midnight.