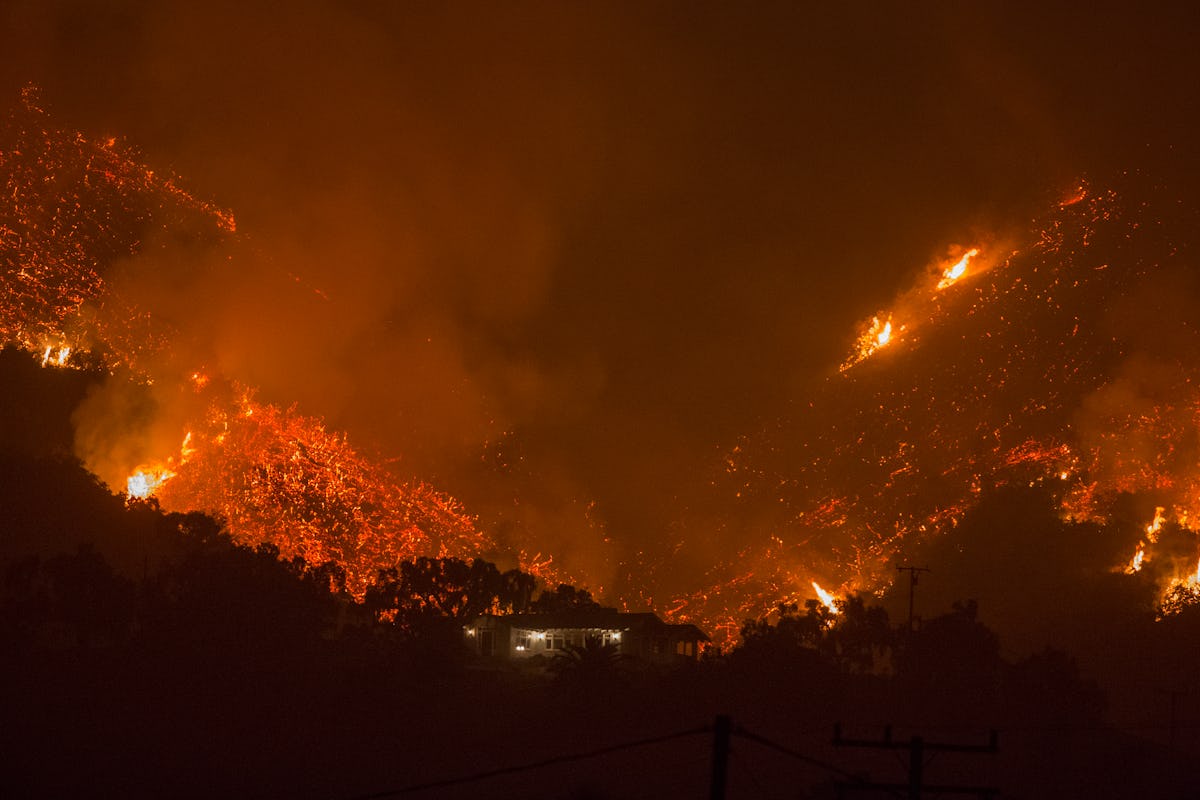 Here's How You Can Donate To The California Fire Victims
David McNew/Getty Images News/Getty Images
The series of southern California wildfires, starting with the Thomas Fire on Dec. 4, have burned more than 230,000 acres and forced thousands of Los Angeles residents to evacuate their homes, making it the fifth largest California wildfire in modern history, according to CAL Fire, a fire protection agency. As of Monday, Dec. 11, the fire has only been 15 percent contained and continues to pose a threat to local residents and the neighboring cities of Los Angeles. With the fires still ablaze, there's ways you can donate to California fire victims.
The fire, which has been measured as larger than all of New York City and Boston combined, according to CNN, has caused major freeways to temporarily shut down, and at least 180 buildings have been destroyed. There has been a reported death toll of one, and most of Los Angeles and Ventura counties remains under a "red flag warning" related to weather conditions, according to CNN. That being said, there are a lot of ways to help.
First, you can give cash donations.
The United Way of Ventura County, American Red Cross of Ventura, and the Ventura County Sheriff's office have created a service for the Thomas Fire that allows anyone to text 41444 to make cash donations. You can also make a donation over the phone at 805-485-6288. The proceeds of the fund will go directly to residents affected by the fire.
Salvation Army is asking for donations to support its work. Those wishing to donate can do so by calling 1-800-SAL-ARMY.
The nonprofit group, Catholic Churches of Los Angeles, is also taking any and all cash donations on their website for evacuees.
Red Cross is taking $10 donations via text. You can text "REDCROSS" to 90999, visit their website redcross.org, or call 1-800-RED-CROSS.
You can also donate through the default search engine, Google. If you type in "California fire relief" to the search bar, Google gives you a pop-up option with a"Yes, Donate" button. From there, you can donate as little from $10 to $250.
If you want to support firefighters on the job, you can to donate cash to the Los Angeles Fire Department Foundation to buy equipment and utilities for the firefighters.
You can also donate food, water, and other supplies.
The Catholic Charities nonprofit is accepting Christmas donations of toys and clothing for Los Angeles residents affected by the fires, which can be taken to the Catholic Charities' Ventura Community Services Center.
The Salvation Army Ventura Corps is currently operating out of the Ventura County Fairgrounds to collect donations of food and water to directly help evacuees.
The Humane Society in Ventura County is accepting donations of horse feed, tarps, rope, and batteries to help horses that were evacuated from staples. The society has taken in at least 300 animals since the start of the fires. Donations can be dropped off at their location, 402 Bryant St. in the city of Ojai, and cash donations can be made on their website.
The Santa Barbara Polo & Racquet Club is also accepting donations of food and barn supplies for the horses that they are sheltering.
Many organizations also need volunteers to help.
The Santa Barbara Polo & Racquet Club are also looking for local volunteers to help take care of the evacuated horses.
You can go on the Red Cross website and see what volunteer openings are listed. If you type in your zip code and your interest (California fire relief), you can see if there any volunteer opportunities close by. The Red Cross Ventura chapter will also likely post volunteer opportunities on their social media accounts.
As the fire continues to affect Los Angeles residents, these are tangible ways to help, whether it be by pushing a button and donating $10, or by showing up over the holiday season to volunteer.