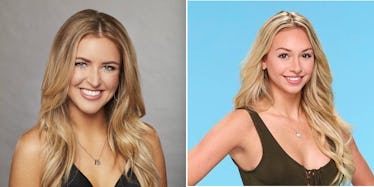 This 'Bachelor' Contestant Is Being Compared To Corinne For This One Reason
ABC
Throughout The Bachelor's storied television history, audiences have seen a handful of interesting job descriptions when it comes to contestant careers. There's been everything from "chicken enthusiast" to "dog lover" to just simply "twin." Season 22 is about to kick off on Jan. 1, 2018 and of course we're curious about what the ladies vying for Arie Luyendyk Jr.'s heart do for a living. And now that the bios have been released, we know we can expect at least three real estate professionals, a nanny, and business owner. But what business does Amber from The Bachelor own? The 29-year-old from Denver, Colorado has quite the intriguing resume.
Amber Wilkerson actually spearheads her very own lifestyle blog, Every Once in a Style. In addition to clearly having a knack for puns, the fashionista writes about fashion, beauty, fitness, and travel for the site. According to its About section, Amber attended FIDM and majored in Visual Communications, and then went to small school in Hollywood to earn her Bachelor's Degree. It was there where she created a business plan for another one of her endeavors, Amber Spray Tans. After years of freelancing in the fashion industry, Amber moved back to Denver to build her blog. Not too shabby. Looks like this go-getter has a lot to be proud of. Oh — and she admits that her mom is her photographer, which we think is an incredibly cute tidbit.
So, why did she decide to focus on blogging? Her About page explains,
I love the blogosphere so much, it has really made me grow and changed my life in ways I never imagined. I love sharing my style, my obsessions, my thoughts and little insights into my life with you all. I love all of the inspiration I get from this world and hopefully I inspire you as well.
When asked about her greatest achievement to date on her ABC bio for The Bachelor, Amber also points to making her career work. "Starting my business over when I moved back to Denver and making it successful in a short amount of time with no money for marketing or advertising," she answers. Amber was also a competitive dancer growing up and she cites Kim Kardashian, Steve Jobs, and her grandpa as the three people she would like to have lunch with, alive or dead. The FAQs on her blog list Blake Lively as her style icon. We can't disagree with that choice. .
Amber's blog posts run the gamut when it comes to the content she covers, ranging from offering up restaurants tips for vacay in Cabo to detailing her experience with beauty treatments like microneedling to style inspo on how to dress for the holidays. One thing's for sure — Amber has great style and business savvy to boot.
Amber is certainly not the first "Business Owner" to compete on The Bachelor. You may recall that former Season 21 Bachelor contestant Corinne Olympios also listed her profession as such, explaining that she assisted in managing her family's multi-million dollar company. Corinne has done quite well for herself post-Bachelor considering she reportedly has TV projects in the works, in addition to a clothing line. Hey, you never know what standing out on a reality dating TV show will lead to...
Only time will tell if Amber and Arie will hit it off when The Bachelor premieres next year. The show's leading man recently revealed in an interview that he told more than one woman he loved them during filming — we just don't know which contestants he fell for yet. "I didn't know that I had that capacity to love more than one person at a time and I think that's something that some of the bachelors go through and it's difficult. But I'm glad that I left myself open and got to experience that, for sure," he told ABC News.
We're looking forward to seeing which ladies Arie has a connection with right off the bat. As far as we're concerned, anything goes when it comes to this so-called "kissing bandit." The New Year's Day premiere can't come soon enough.