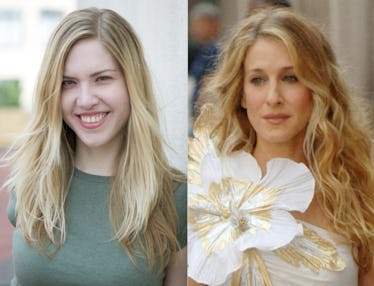 What Being A Dating Columnist Is Really Like, Because Carrie Bradshaw Lied To You
Carla Rovey + HBO
Picture a dating columnist. You immediately think about Carrie Bradshaw, don't you? A blonde New Yorker with a string of adventurous dates, a weekly newspaper column, and a cocktail in hand, right? Well, she was fictional, but three years after Sex and the City went off the air, her real-life counterpart emerged: Mandy Stadtmiller, the writer of the New York Post's dating column "About Last Night," which ran for a year from 2007 to 2008.
Stadtmiller, who moved to New York at 30 after leaving behind a safe job in public relations and her college sweetheart husband, captivated the city's readers with installments about her relationship with an anonymous, ultra-rich boyfriend known only as "Super Preppy." Also featured: her night with the country's first-ever legal male prostitute, and the friends and work wives in her life who helped cushion the blow of disappointing dates.
But unlike Bradshaw, her column stirred up toxic drama in her relationship. She hit rock bottom, and she ultimately found herself struggling with alcohol abuse and sex addiction. This week, she releases her memoir, Unwifeable, which chronicles her work at the Post and later at xoJane, her addictions, and ultimately, her marriage to comedian Pat Dixon. "The bus splashes Carrie, and I guess in my version, the bus runs me over," Stadtmiller jokes to me on the phone.
Full disclosure: Stadtmiller and I met four years ago when I was working as a matchmaker for a dating service, and she was briefly one of my clients; she later became a friend and mentor to me, and also set me up with a Ryan Gosling lookalike she had once been on a date with (who now — in the smallest of small worlds — happens to be in a relationship with an old friend of mine). This feels like a classic Stadtmiller story: a satisfying twist on the rom-com you've already heard.
Now somewhat of a dating columnist myself, I ask Stadtmiller how her work had an impact on her dating life.
"I didn't expect the look of terror that occurred once or twice in different men's eyes," she tells me. "I remember getting a cease-and-desist by text after having a drink with some guy who was afraid I would write about him. He was the world's most boring guy, and there's some mathematical corollary where the more boring the guy, the more terrified he is that you are going to deliver the hot scoop — 'Woman Has Beer With Guy Who Works at a Hedge Fund!' I would say to people, 'Do you know how many pitches I get a day from people who are trying to get written about? Unless you murder someone here tonight, you're fine.'"
When Stadtmiller found herself in a relationship, she struggled to craft it into a neat narrative that could serve as fodder for her column every week.
"I probably disgusted [Super Preppy, her boyfriend at the time] because it was like I had this super jaded, social-climbing, Hollywood network executive vantage point on something that involved real human lives and emotions," she says. "It was like, 'Come on, people! Clap, clap! Don't you realize, you're the Mr. Big. You're supposed to come through now. Do you not get it?' You get kind of intoxicated and wrapped up in some storyline that you're creating."
Sure enough, the storyline is intoxicating. Scroll down for an excerpt from Stadtmiller's Unwifeable, out now.
My latest date is a failure. A girlfriend of mine is there at the bar with me, and early on, both of us exchange a secret glance within the first few minutes communicating the exact same thing: This guy is the reason women give up on dating entirely. He's not even a bad guy—at all. He's just so boring. Once you reach your thirties, a 50-minute date can feel like a lifetime, where the biggest thrill is silently inventing what your excuse is going to be to leave.
Afterward, I email my editor at the New York Post all about my dating woes, and she writes back, "Sounds like it's time for a new dating column!"
Immediately, I begin pitching her.
I have endless ideas. "Who Is on Your Secret Husband List?" "The New Intimacy: Using Your Real Email Account." "Googlebating: aka First-Date Oppo Research." (Oppo research meaning "opposition research," a term for the practice of political operatives gathering dirt against an opponent. The fact that I regard men as the "opponent" kind of gives insight into my f*cked-up perspective on dating at the time.)
To support my campaign, I try to show all the editors how fascinating and bizarre I am. Boundaries? What boundaries? I have plenty to write about because I take all comers for fodder. Standards start loosening, men who are "jokes" are suddenly entertained as prospects again (I call this an "unjoking"). I'm still a youngish-looking 31, and I am determined to exploit it.
I spend weeks trying to think of names for the column. My sister helpfully offers up "Penises on Parade." Another friend suggests "Love Patrol," with me in a cop uniform winking. My contribution is either "Daddy Issues" or "I Was Going to Call My Column 'I Take It in the *ss' but I Found Out It's Already Been Done by the Wall Street Journal." But it's a consortium of editors who settle on About Last Night.
The column affords me the perfect way to superficially seek love while never exploring the more difficult questions about what true love for oneself and others really takes.
Before too long, I am writing off Brazilians on my weekly expense report. I have only one goal: Get good material. And I am determined to find it all costs.
When your dating becomes a kind of a job, it becomes hard to even keep track.
Winning the award for most bizarre date during this time is the lawyer who after a nice night spent walking around the city suddenly leans over to give me what I expect to be a kiss—then he bites me on the cheek.
Hard.
"Ow!" I say. "Jesus. That's going to leave a mark."
"So, what . . . you're into tonguing?" he asks. "You're, like, into regular Midwestern mainstream stuff?"
Another date turns serial-killer-level honest after six or seven drinks.
"I'll tell you exactly what I want," he confesses. "My fantasy is to find a woman who's indescribably hot, she's a total babe, but then she has this one single flaw. Like a withered hand."
I spit out my drink. Jesus.
"Yeah, you know," he says. "Something that makes her just insecure enough so that even though she's a total 10, I never have to deal with all that hot-girl confidence."
Oh my God. Dating is so dark.
But I am determined to put myself out there no matter what, so I join an online dating site with the username "ucanttouchthis." You know, because "f*cksalotofdoctors," "cuttingmyselftofeelalive" and "witheredhand4u" are taken. The pickings are slim—in the sense that guys have names like "rebounding_withbaggage."
I wish I could say I believed any of these online dating possibilities made me think true love was possible—but I'm a dating columnist now. My personal happiness comes last.
See, the thing people don't tell you about having a dating column is just how far from any rom-com fairytale the experience really is.
Unlike Carrie Bradshaw, because I'm putting intimate details out there every week for millions to read, I'm essentially a joke, eviscerated online and an embarrassment to guys I date. It's not like in the movies where the guys are beating down your door. The guys want sex, and then they want you to disappear forever—or at least to keep your trap shut.
There's nothing so loathsome as being associated with female desire expressed and documented. That's how you don't get a husband, don't you know? The reality for most women who write any kind of dating or sex column is that there is no Aidan who tries to thrust the engagement ring upon you, but you in your freewheeling lifestyle of carefree fun and abandon can only bring yourself to wear the giant rock swinging around your neck fancy-free. Because dammit, you've just got to do you.
Nope. Aidan doesn't exist, and I'm as far from that doesn't-want-to-be-caged story line as you can get.
Because I can't wait to be wifed again, to be claimed.
And in constantly vocalizing how no-pressure I am to guys I date, I'm absolutely trying to appropriate a cool girl character like that—because I sure as f*ck don't know who I actually am. I just know how good it feels when I receive approval—especially male approval.
So, most of the time my mental energy at the paper is consumed with About Last Night.
Not even the writing of the column itself, but the stress around it that it creates—for the guys being written about.