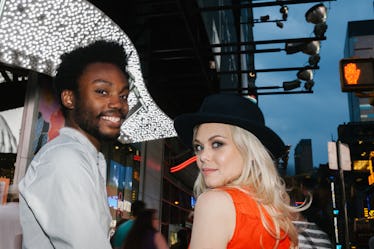 7 Men Reveal What Attracted Them To Their Last Crush & They'll Make You Swoon
He reminded me of Nate Archibald from Gossip Girl. That's legitimately what I found appealing about my most recent crush. Sorry, but it doesn't get any deeper than that. In other instances though, when I'm not trying to live out my lustful, adolescent dreams as an adult, I'm mostly attracted to anyone who can keep up with my dry sense of humor, sassy comebacks, and pop culture references. Nate Archibald-dimples aside, physical attributes don't usually play a huge role for me, which makes me wonder what men find attractive. Is it more about looks or personality? Is it a little of both?
I think everyone has their own cocktail of traits that they hope to find in a partner. Sense of humor, warm smile, professional success, hot body — whatever floats your boat, really. In some cases, it's even less about how you see the person and more about how they make you feel that's got you crushing on them.
I've found that the most intense crushes are the ones I can't really explain, when there's just something about a person that I find overwhelmingly magnetic and undeniably irresistible. These are usually the ones that take the longest to get over, too. If I can't rationalize why I like them in the first place, how am I supposed to convince myself that I should let it go when things don't work out?
Evidently, guys don't seem to have this problem — at least, these seven guys don't. They know exactly what their most recent crushes brought to the table and it's actually kind of cute.