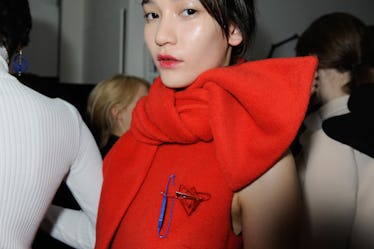 Popsicle Lips Are Summer's Juiciest Beauty Trend & Yes, You Can Get Them By Eating A Frozen Treat
Matteo Valle/Getty Images Entertainment/Getty Images
I have a favorite lip trend solely because of its easiness and maintainability, by which I mean it requires literally zero upkeep throughout the day. It's called popsicle lips (or at least that's what I call it) and it is every lazy girl's dream beauty look. What are popsicle lips, you ask? The trend actually first rose to popularity years ago but because of its sheer awesomeness and the myriad of ways it can be executed it's remained in the good graces of makeup artists, models, celebrities, editors, and more. It's lip-smacking good.
I'm sure every little kid did this but I specifically remember taking my slightly melty cherry popsicle and rubbing it over my lips, mimicking the way my applied lipstick. I'd let the gooey, sugary tint sit on my lips for a minute or so before licking it off, allowing ample time for its deep red hue to sink in. That, coupled with the eating itself of the popsicle, always resulted in a juicy pout that was lighter at the outside and faded into a true cherry red at the inside of my lips. This look is what inspired the faded lip trend, or as I like to call it, the popsicle pout. Characterized by that ombré effect and a wonderful imperfectness, the trend can be executed as extremely or subtly as you'd like depending on color and gradient. Heck, why not just snag an actual popsicle and eat it on the way to your big night out?
From Vera Wang and MSGM to Dior and Giambattista Vali, countless mega fashion brands have championed the beauty look on their runways. Below are three products that will help you DIY it at home.
Smudge Stick
If you haven't tried Glossier's line of Generation G lipsticks I highly recommend them. Currently offered in six shades, the product applies with a sheer matte finish. It feels like you have nothing on when you wear it and thanks to its slight transparentness it doesn't look crazy if you get it outside of your lip lines. This smudge-ability is what allows it to be the perfect product to execute a popsicle pout with. Simply apply the product the the centermost part of your pout and smudge it out with your finger to create a gradient. If you want to add a bit of shine to the look a la a real popsicle, top it off with some of Glossier's Lip Gloss ($14, Glossier).
Finger Paint
A new product on the market, this lip mousse is garnering a ton of positive reviews at the moment, and for good reason. It's a weightless, buildable, waterproof lip color that you can apply either with the provided wand or your fingers, and it provides a velvety matte finish. For the popsicle look, I suggest tapping the pad of your finger into the product and then lightly and haphazardly dabbing it over your lips.
Magic Wand
This product is ideal when it comes to creating a blurred lip as it was formulated specifically to look like it has just been blotted upon application. Apply a few dots of this to the inner circle of your lips, rub your lips together, and go. It's as easy as that.
Liquid Gold
Finally, liquid lip stains are another ace way to execute the trend. Think of the stain like popsicle juice just minus the ingestion part. Apply more stain to the part of your pout that you want to be darkest and less to the outer rims. I'd recommend starting with a light layer all over your lips and working your way in with additional layers from there.