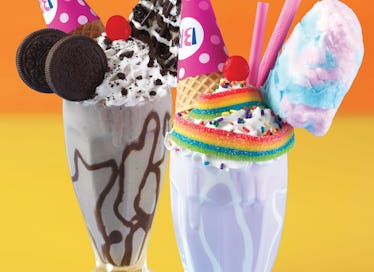 Baskin-Robbins Is Releasing Epic "Freak Shakes" Soon & They Look Delicious
Baskin-Robbins
Along with Thanksgiving and New Year's Eve, I'd have to say that National Ice Cream Day is my single most favorite holiday, hands down. I mean, how could it not be? There are so many (literally) cool ways to celebrate, whether you're snagging a deal, eating a pint by yourself, or discovering a special new frozen treat. In honor of the holiday this year, Baskin-Robbins is releasing something "freaking" delicious. On July 11, the company announced new menu items called "Freak Shakes," and they'll take you way out of your comfort zone. If you're wondering what Freak Shakes from Baskin-Robbins are, just know that they'll bring milkshakes to a whole new level.
FYI, National Ice Cream Day is just around the corner on Sunday, July 15. As you know, Baskin-Robbins is serving up their own sundae-shakes — called Freak Shakes — to commemorate the holiday. According to a press release, there are three different flavors, and each of them will available through July 31. So, you have more than enough time to try all of them, like, several times.
First, there's the Unicorn Freak Shake, which is majestic beyond belief. According to the press release, it's essentially a Cotton Candy milkshake with scoop of Cotton Candy ice cream. It's topped with Charms Fluffy Stuff Cotton Candy, Airheads Xtreme Rainbow Berry Sweetly Sour Candy strips, and a sugar cone. It's finished with a cherry, rainbow sprinkles, marshmallow garnish, and a whipped topping, so if that doesn't sound like a dream come true, I seriously don't know what will.
Then, you have the Oreo n' Cookies Freak Shake. The base is really similar to a cookies n' cream milkshake, per the release, and if you haven't tried one of those, you haven't lived. It includes an extra scoop of Oreo Cookies 'n Cream ice cream, and it's drizzled with hot fudge, whipped topping, a slice of Oreo Cookies 'n Cream Polar Pizza, a sugar cone, and cherry and Oreo cookie pieces. It's super extra and I love it.
Finally, you have the Donut Shop Freak Shake. According to the press release, the base consists of a Jamoca Almond Fudge milkshake, which is embellished with a scoop of Jamoca Almond Fudge ice cream. It's drizzled with hot fudge and whipped topping, as well as Dunkin' Donuts Powdered and Chocolate Munchkins, a Dunkin' Donuts Chocolate Frosted with Sprinkles Donut, a sugar cone, cherry sprinkles, and, of course, rainbow sprinkles. It's bound to add a little color to your day, so get ready for the most beautiful sight you ever did see.
In a press release, Carol Austin, the Vice President of Marketing for Baskin-Robbins, said that she's super excited to share a new and unique treat in honor of National Ice Cream Day. The Freak Shakes accurately represent the company's aptitude for innovation, as well as their creativity.
In the release, Austin said:
We wanted to share our excitement for National Ice Cream Day with our guests the best way we know how – by creating a new and unexpected ice cream treat for them to enjoy. Freak Shakes represent our passion for innovation and we hope our guests will take a moment to celebrate National Ice Cream Day with their friends and family with these over-the-top treats as well as our special deals.
In terms of deals for the gloriously sweet holiday, Baskin-Robbins is going all out. According to the press release, customers who download Baskin-Robbins Mobile App on July 15 will get the chance for exclusive offers, like BOGO Cones, a BOGO 99-cent sundae, and $2 off a medium milkshake offer. The best part is that any flavor is fair game, so look out, Oreo n' Cake, I'm coming for you. Also, the ice cream joint will be kicking off its Celebrate 31 promotion on Tuesday, July 31 by offering all regular and kid-sized scoops for only $1.50. Pretty cool, eh?
You have to admit, it's pretty obvious as to why National Ice Cream Day is my number one favorite holiday. Between Baskin-Robbins Freak Shakes and deals beyond belief, there are so many opportunities and different ways to get that ice cold sugar rush.