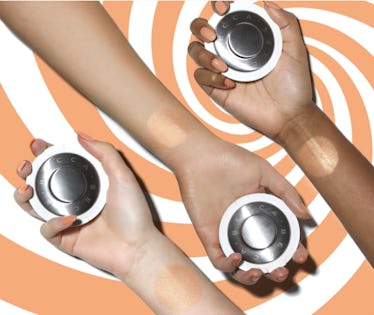 100 BECCA Highlighters Have A Hidden "Glow Ticket" Inside That Could Win You A Vacay
As I sit at my desk on a bleak Monday afternoon, the only things I can think about are needing $1 million to fall into my lap right this second and a vacation. TBD on whether or not $1 million falling into my lap will ever actually happen, but my wish for a vacation could actually come sooner than I thought thanks to a BECCA Cosmetics Glow Ticket. What are those, you ask? Imagine if Charlie and the Chocolate Factory were about makeup, and instead of a tour of a chocolate factory with a kooky chocolatier, you win fun beauty-related prizes and the chance to win a trip with BECCA. Now, that's more my style. (10/10 would still die for chocolate, though.)
Before you go spend your whole life's savings on every single BECCA product you can get your hands on, let me give you the lowdown. Earlier this month, BECCA teased a Shimmering Skin Perfector Pressed Highlighter in a new ~mystery shade~. The brand later revealed the hue would be called Dreamsicle, a "soft tangerine shade swirled in gold and vanilla pearls," according to its website. Now, BECCA has gone full Willy Wonka on us and decided to hide its version of golden tickets, called "Glow Tickets," in certain Dreamsicle packages. Don't mind me, I just have 8,345,849,223 BECCA Dreamsicle Pressed Highlighters to buy now!
While only five golden tickets were available in Charlie and the Chocolate Factory, your chances are a little better with Glow Tickets, as Bustle reports that BECCA has hidden 100 Glow Tickets in Dreamsicle highlighters, available in Sephora stores, at Sephora.com, and at BECCAcosmetics.com. A rep for BECCA told Bustle that lucky Glow Ticket holders can turn the tickets in for "a special gift from BECCA." Two Glow Ticket holders (and plus-ones of their choice) will be selected for an exclusive trip with BECCA to attend its BECCA VIP Event.
Becca Shimmering Skin Perfector Pressed Highlighter, $38, Sephora
As stated in the caption above, if you find a Glow Ticket and you want the chance to win the trip, you have to do a few more things: First, Instagram an original selfie holding your ticket and showing off your killer beauty look using Dreamsicle. Next, "explain what your Glow Mantra means to you" and make sure to use the hashtags #BECCAGlowTicket and #BECCAContest. And finally, tag your plus-one in your post. This all sounds easy enough, right? Basically, you have until 11:59 p.m. ET on May 31, 2018, to 1) find a Glow Ticket, 2) post on Instagram about it, and 3) proceed to freak out over the prospect of going on vacay with BECCA. You can find all the nitty-gritty details about the contest here.
While the chance to win anything is enough to sell me on a product (I love winning, OK?) BECCA's Shimmering Skin Perfector Pressed Highlighter is pretty sweet without the Glow Ticket attached, too. As the brand's website states, this particular highlighter's formula boasts an "ultra-buttery texture" and "[blends] pigments with liquids." This gives the product a "creamy feel" and allows it to "[melt] into skin." The Dreamsicle shade, specifically, is a warmer shade, perfect to help you achieve a natural, sun-kissed glow, no matter your skin tone.
Becca Shimmering Skin Perfector Pressed Highlighter, $38, Sephora
As far as I'm concerned, I'd spend my money on this award-winning highlighter any day of the week. (In fact, I use BECCA's Shimmering Skin Perfector in "Pearl" almost every single day.) So the fact that I could find a Glow Ticket makes me wanna create a stockpile of about 500 Dreamsicle highlighters and call it a day, extreme-couponing style.
Remember, you only have until May 31, 2018, at 11:59 p.m. ET to find a Glow Ticket and enter on Instagram to win the VIP trip. May the odds be ever in your favor.