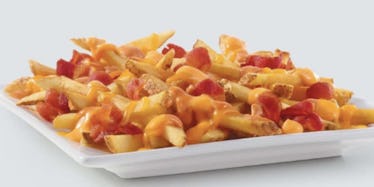 These New S'Awesome Bacon Fries From Wendy's Are Covered In Cheese, Because Yum
In a world full of delicious things to eat, I present to you Wendy's S'Awesome Bacon Fries. If you visit Wendy's with any regularity, you probably already know about the incredible flavor behind their S'Awesome sauce. Well, the fast food joint is kicking it up a notch by adding it to a pile of french fries, covered in cheese and bacon for a totally indulgent snack time treat.
Looking for lunch plans? Wendy's S'Awesome Bacon Fries are sure to fill you up. The new menu item is featured on the Wendy's website and is topped with the cult favorite: S'Awesome sauce. The holy S'Awesome Bacon Fries are a dream come true, IMO, but the fries are only available for a limited time, according to Chewboom. So, make sure to stop by your local Wendy's location and order up a serving of S'Awesome Bacon Fries before it's too late.
Generally speaking, french fries are a versatile food that can be topped with just about anything. I usually opt to dip my fries in ketchup, but that's just because ketchup packets are easy to come by. Other condiments like mustard (meh) and mayo (no thanks) don't do much for me in the way of fry toppings. But, S'Awesome sauce with bacon and cheese? Yes, please. Aside from S'Awesome sauce, I'm pretty sure that cheese and fries go together like PB&J. (I'm a longtime fan of Shake Shack's Cheese Fries.)
While you're wiping up the drool, allow me to elaborate on exactly what S'Awesome Bacon Fries are. The base of this dish is the Wendy's French fries you know and love. The fried potatoes are described as "natural-cut, skin-on, sea-salted fries," according to Wendy's. Basically, it's a nice and sturdy foundation to take on the hearty toppings that are laid on thick. The fries are topped with warm, melted cheddar cheese, chunks of applewood smoked bacon, and S'Awesome sauce.
Obviously, these fries are covered in S'Awesome sauce, but what exactly is it? The orange-colored dressing is basically like gravy for the fries. It's sweet, smoky, and tangy. According to Wendy's, the S'Awesome sauce "blends the creaminess of ranch dressing and the smoky components of barbecue, plus a lick of hot sauce, a hint of honey mustard and a dash of Worcestershire." I don't even know what to think of this description because it literally contains all of the best flavors. I'm not mad about it, either. I'll admit I've never tried S'Awesome sauce, but I'm adding it to my "Must Eat" list ASAP.
Wait. There's more. If that's not enough S'Awesome sauce for you, then you may want to order the S'Awesome Bacon Classic from Wendy's. The burger is the perfect pairing to go with the S'Awesome Bacon Fries. The burger comes with three strips of applewood smoked bacon, American cheese, crinkle cut pickles, sweet onion slices, a couple of leaves of crisp lettuce, and a generous slathering of S'Awesome sauce, according to Wendy's.
Wendy's S'Awesome Bacon Fries looks delicious AF. I haven't tried these bad boys yet, but, uh, I'll give you just one guess as to what I'll be having for lunch later today.