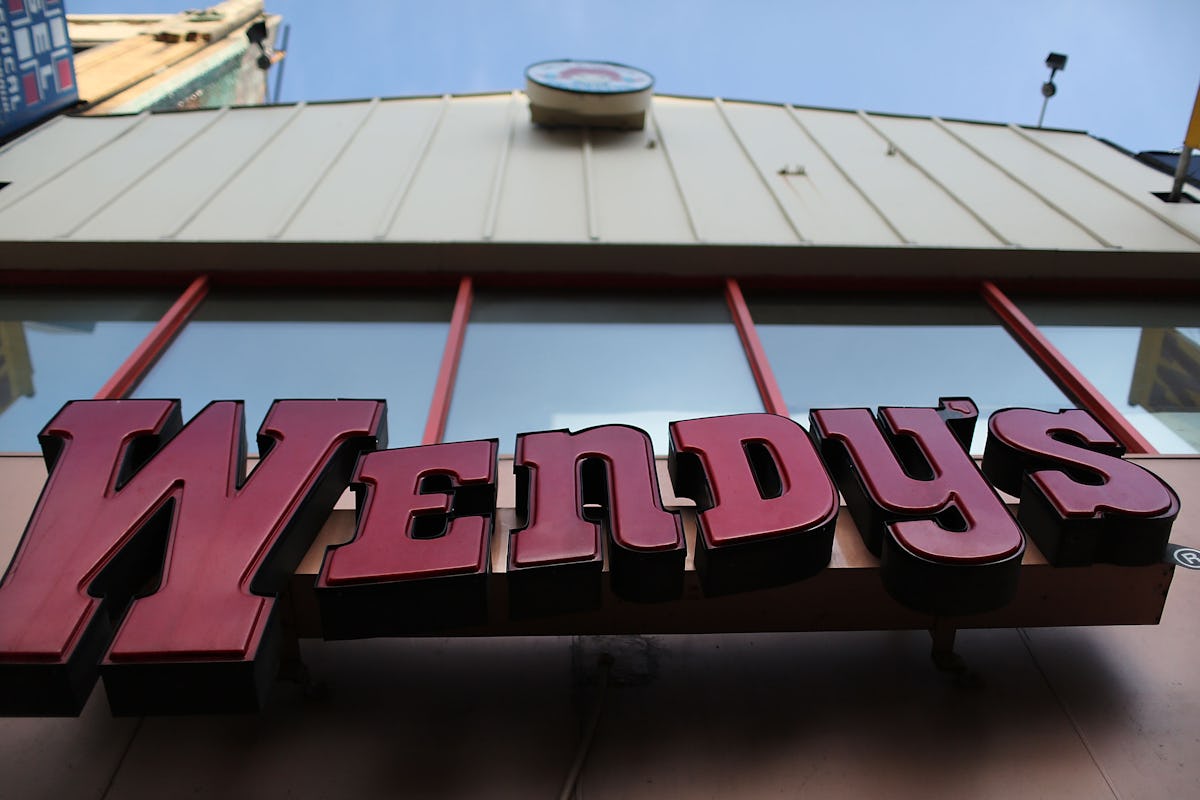 You Can Get 5 Wendy's Jr. Frosty's For $1 To Support A Good Cause
Spencer Platt/Getty Images News/Getty Images
It's always a great feeling when you can give back to help others, but it's an added bonus when giving back involves a delicious frozen treat like a Wendy's Jr. Frosty. That's why Wendy's' latest promotion is a deal that will warm your heart and cool your tastebuds. Wendy's "Boo Book" offers five Jr. Frosty's for $1 and it's all to support a good cause.
Right now, you can buy a Boo Book from Wendy's and get five Jr. Frosty's for just $1. That's not a typo. A Jr. Frosty from Wendy's usually costs $0.99 or less. If you're looking to maximize the value of this promotion, you could look at it along the lines of, if you buy four Jr. Frosty's you get one free. I'm no math whiz, but that sounds all right to me. What are you going to do with five Jr. Frosty coupons? Eat them, of course. (The Frostys, not the coupons.) Or you can share the coupons with your friends, all while encouraging them to purchase a book of their own. The coupons can be redeemed for a chocolate or vanilla Jr. Frosty starting on Thursday, Nov. 1 until Thursday, Jan 31, 2019, according to Wendy's.
The money raised from the Boo Book sales will go to the Dave Thomas Foundation for Adoption, a nonprofit organization. Per Wendy's, $0.85 from every $1 Boo Book that's purchased will be donated to help find adoptive families for children in foster care. While it might not seem like a ton of money, every purchase makes a difference. According to Bankrate.com, adopting a baby can costs upwards of $40,000. That's no small chunk of change for any person or family.
The goal of the Dave Thomas Foundation for Adoption is to help ease the costs of adopting a foster child for prospective families or persons. The foundation gives money to reputable adoption-focused charities and organizations in the United States and Canada. It's a cause that's been near and dear to the Wendy's founder's heart since the formation of the foundation in 1992. Per the Wendy's website, adoption is the "brand's signature cause."
According to the most recent statistics from the Administration for Children and Families, there are 437,500 children in foster care as of 2016. During this time frame, roughly 57,000 children were adopted but, as the numbers indicate, there is still quite a ways to go before each child finds the right adoptive family. That's why it's so important to give back to organizations like the Dave Thomas Foundation for Adoptions, so that foster children can be placed in the right home. You can make a big difference in the life of a child — or family — all while enjoying a delicious frozen Jr. Frosty from Wendy's. (And for just $1!)
So, where can you get a "Boo Book?" Well, just about any participating Wendy's location should sell the books. It's unclear how long this charitable deal will be sticking around. My advice to you is go get your Boo Book from Wendy's while you still can.