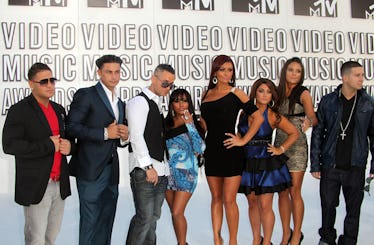 'Jersey Shore' Fans Have One Major Question About The Situation's Wedding Guest List
Frederick M. Brown/Getty Images Entertainment/Getty Images
In the past, the cast of Jersey Shore Family Vacation has made it clear that no matter what drama may arise between them, they come together for life's big events. However, some cast members haven't always stuck to that promise, and someone's absence on a major day always causes a little tension within the group. With pictures from Mike "The Situation" Sorrentino's wedding now beginning to flood the internet, fans have a big question about one potential guest. Was Sammi at the Situation's wedding? The former Jersey Shore star appeared to be a no-show on Mike's big day.
Sammi "Sweetheart" Giancola starred in the original MTV series Jersey Shore alongside our other favorite guidos from 2009 to 2012. She became known for her tumultuous on-and-off relationship with co-star Ronnie Ortiz-Magro, who heard his fair share of Sammi telling him to "staaaph" his antics over the years. The couple eventually split for good in 2014, although another reconciliation was briefly rumored in 2016. Since their breakup, Sammi and Ronnie have yet to appear onscreen together. Sammi appeared in E!'s Reunion Road Trip: Return to the Jersey Shore in 2017 while Ronnie didn't, and she has yet to star on MTV's ongoing spinoff series Jersey Shore: Family Vacation.
Now in a relationship with Christian Biscardi, Sammi clarified ahead of the Jersey Shore Family Vacation premiere in March that while she loved her co-stars, being on TV wasn't the healthiest environment for her. In a statement, she wrote:
I have chosen not to join the show this season because I am at a completely different place in my life right now focusing on my businesses and relationship. I am not the same person as I was when I was 22. At 31, I am currently extremely happy in every aspect of my life and want to avoid potentially toxic situations.
While the Situation and Lauren Pesce's Nov. 1 wedding was filmed for MTV, it looks like Sammi was the only Jersey Shore star to not attend the celebration. On Thursday afternoon, the 31-year-old posted an Instagram photo promoting her jewelry line just as some of her former co-stars began sharing Instagram Stories of themselves prepping for the ceremony. When Us Weekly later reported about Mike and Lauren's wedding, Sammi also wasn't included among its list of Jersey Shore guests. Seeing as she once had a fleeting crush on the Situation in the early days of the OG show, some fans on Twitter were shook about her absence.
Of course, we don't know when Sammi and the Situation last hung out, but it's definitely a bit of a bummer that the full Jersey Shore crew wasn't there for Mike's big day. It sadly isn't the first time a star missed out on someone's milestone event. Jersey Shore Family Vacation previously tackled Deena Cortese feeling hurt that Ronnie didn't attend her father's funeral. Ronnie was also the only cast member not to attend Deena's wedding in 2017 (other than now official Family Vacation co-star Angelina Pivarnick) because he had reportedly fallen out with the entire group beforehand.
Seeing as Ronnie was the Situation's best man, perhaps Sammi's absence was just a sign of her growing apart from some members of the cast. We can't be roommates down at the Shore forever, right? Here's hoping that everything is still fine between her and the rest of the group.
Jersey Shore: Family Vacation airs on Thursdays on MTV at 8 p.m. ET.