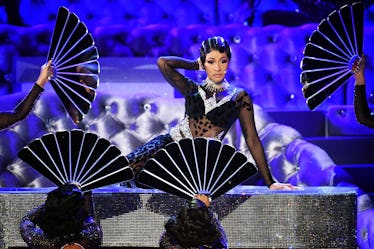 Fans Are All Saying The Same Thing About Cardi B's Grammys Performance
Kevin Winter/Getty Images Entertainment/Getty Images
When musicians end up on the world's biggest stage at the Grammy Awards, they're bound to face their fair share of speculation or criticism. As fierce as nominee Cardi B was during her performance, fans couldn't get over one little detail of the elaborate number. Was Cardi B lip syncing at the 2019 Grammys? Twitter definitely seemed to think so.
Performing her single "Money" during Feb. 10's Grammys ceremony, Cardi B delivered a powerful performance complete with killer costumes, an on-point dancing ensemble, and even a Black Panther shout-out. While the camera angle first hinted that the superstar was the one playing a fast-paced piano intro, Cardi B actually made her entrance at the top of a staircase like the queen she is. Thanks to the precision of her back-up dancers and the intriguing set design, the performance was far from a flop, but Cardi B's mouth didn't seem to match up to her delivery of "Money"'s rapid-fire lyrics.
Going into the night with five total Grammy nominations, Cardi B certainly had reason to rock that stage as confidently as she did, but Twitter couldn't help but wonder if she actually sung the song. As of 2012, lip syncing at the Grammys is technically outlawed, but according to the show's longtime audio coordinator, Michael Abbott, a song with challenging sound design may require "track augmentation," or some kind of playback. If Cardi B did lip sync, the scenario Abbott describes was probably the likely outcome.
Whether or not she was bending rules to deliver a strong number, Cardi B has sparked serious lip-syncing speculation on Twitter.
Seeing how open Cardi B typically is on social media, we might eventually hear her truth about the audio of her performance. But if we don't, it's probably because the rapper has far too much to enjoy on Grammys night. Her five nominations are in the Album of the Year, Best Rap Album, Record of the Year, Best Rap Performance, and Best Pop Duo/Group Performance categories.
On top of her handful of nods, Cardi B and husband Offset appeared to make their reunion official on the Grammys red carpet. While posing for photos there, the two rappers touched tongues, seemingly presenting a united front two months after Cardi B told her Instagram followers they had split. Love wins, guys!
Despite the hate her performance was generating online, there were also plenty of viewers in full support of Cardi B singing "Money."
When people looked past the questionable live status of her song, they also searched social media for the name of Cardi B's stellar piano player (Chloe Flower, BTW). Plus, if that red carpet PDA wasn't enough, video of Offset's reaction to her performance definitely proves he was into her.
To be fair, if Cardi B had to rely on a pre-recorded track to ensure the best performance result, the decision was worth it in the long run. It takes more than just star power for people to debate about a Grammys number this much, and Cardi B totally won over the internet's attention during "Money."