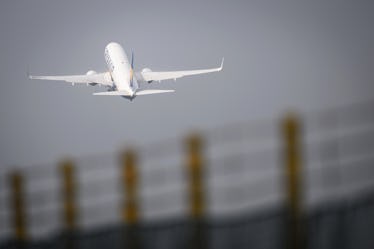 The New York Times Is Paying Someone To Travel The World & Where Do I Sign Up
Leon Neal/Getty Images News/Getty Images
There are essentials to ringing in a new year: the Honeymooners marathon on Pix, an order of shrimp and broccoli, and of course, The New York Times' "52 Places To Go" series. Every January, readers are treated to the travel listicle that puts all others to shame — one that stirs up the most intense kind of wanderlust. Now, the impressive lineup is about to become one traveler's reality, as The New York Times will pay someone to travel to 52 places... and it could possibly be you.
Is your passport ready to go? After all, if you're the lucky winner, you're going to be hitting a new destination every week of the year (hence the reason for 52 locations) so now's the time make sure you're pleased with your head shot. The adventurous task is not for the faint of heart, but certainly for someone who loves to explore new places and cultures.
The Times cuts right to the chase in its application statement, saying,
We are seeking a correspondent who will go to every destination on our list and tell us the story of each place and the story of life on the road. The ideal candidate is a permanent student of life and astute documentarian of the world. This person should have a well-worn passport, the ability to parachute into a place and distill its essence, and to render a compelling tale with words and images.
Now that you're an Instagram whiz and can't help but recount your adventures to friends, this just might be the perfect fit for you. Would you really want to pass up the possibilities? A yearlong trip is the absolute perfect excuse to put your life on pause and begin anew.
The renowned paper just put the job listing up online, and the application process is a bit extensive. It highlights necessary qualifications — documented travel writing, familiarity with social media, magazine experience — but the real doozy comes with the requirements — a memo for the following bullet points:
Do you have a passport?
What was your most recent trip?
What's the most interesting place you've been and why? (500 words)
A 500-word memo outlining the themes you would like to explore during your travels
It's time to take a look at #vacations of Instagrams past to decide how you're going to approach each essay. Seize the opportunity folks, this is your chance to see the world. Figure out a few topics and then get writing because you're certainly going to be one of many vying for this position.
Take a look at the most recent locations that made the cut for the 2017 feature — Hamburg, Germany, every architect's dream vacation, the Great Barrier Reef in Australia, a sea-lover's paradise, and even the unexpected locations like Ketchum, Idaho, where skiers can tackle new slopes.
Now that your interest is officially piqued, it's time to get thinking about how you'll approach the trip. There are going to be a lot of adventures to report, but you'll definitely experience some roadblocks, one being the weather. Make sure to download TripAdvisor and The Weather Company's new feature in The Weather Channel for Samsung App, as it allows you to discover an itinerary for the day based on the forecast. If you had your heart set on the beach, but there's torrential rain, you can discover another destination that will surely be a hit with readers. While you're at it, take the opportunity to spruce up your vacation Instagram captions, since you're going to be a go-to for all-things travel, your photos have to be completely enviable and like-worthy.
Ready to take the plunge and submit your app? Best of luck — can't wait to see where we'll be headed.
Check out the entire Gen Why series and other videos on Facebook and the Bustle app across Apple TV, Roku, and Amazon Fire TV.