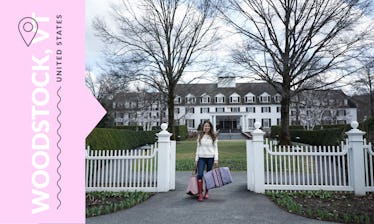 Wander or Bust: Woodstock, Vermont Is The Cozy Weekend Getaway You Need
Wander or Bust is an Elite Daily travel series that will follow young women fanning out all over the globe to record their travels and inspire other young women to experience the thrill of the far-flung and unknown.
They'll track their budgets, where they stay, where they eat & drink, and where they took that amazing Instagram that got them ~maximum exposure.~ When in doubt, get on the plane.
My Name: Cori Sue Morris
What I Do: A social media strategist and brand consultant, writer, and founder of a lifestyle website covering food and travel, Bitches Who Brunch.
Where I Live: Manhattan, New York
Where I Went: Woodstock, Vermont
How Long I Stayed: 3 days, 2 nights
My Spending Style: Extravagant. I spend without consequence; I'd rather have a good time than be on a budget.
Where I Got My Recommendations:
I didn't do a lot of research — I knew I wanted to explore Woodstock and stay at the Woodstock Inn. After we arrived, we started exploring.
Preferred Payment Method: Credit cards and cash... the usual.
Phone Bill: We stayed in the U.S. so nothing changed.
Mode of Transport: Car
We rented a car at Newark Airport and drove from New York.
Price: $300 for the weekend.
Extra Costs: Just gas!
Transport Total: $340
Accommodation: Woodstock Inn
Location: The Inn was located in the center of Woodstock, adjacent to the historical sites and the main street.
Price: $180/night
Extra Costs:
Parking was complimentary, as were the amenities (gym, etc.). There were also plenty of unique activities on the property, including a spa, falconry (yes, falconry), and a fully functional dairy farm and museum. We spent our days exploring and enjoying property — dining at the restaurants serving farm-to-table local fare, playing board games in the old-fashioned game room, and meeting the baby farm animals at the farm. We hiked the mountain adjacent to the resort, in the Marsh-Billings Natural Park, and explored the general stores and gift shops of Woodstock's Main Street. It was like a trip back in time to the 1800s in New England.
Would I Recommend It To Someone Else: Yes, it was the quintessential location for a cozy weekend getaway in New England.
Accommodation Total: $400, with taxi
Breakfast-Lunch Cost: $33/day
We had a delicious brunch at the Woodstock Inn for about $50 for two, but you can also explore one of the more casual spots in town. For lunch, we snagged sandwiches from the farmers' market for about $7-$10 a piece.
Dinner Cost: $75/day
We definitely splurged on dinner, but there are certainly cheaper places to pick some up in town.
Average Total Cost: $108/day
Tip Situation: It's America, so 18 to 20 percent is expected.
Food Situation:
Everything in Woodstock tastes fresh — and every meal we ate was amazing. Food is made with all-natural ingredients from nearby farms. This is organic food without having to pay an extra $30 just because it says that on the package.
Favorite Restaurant: Woodstock Inn
Location: 14 The Green, Woodstock, Vermont 05091
Price: $75 ($150 for two)
Food Total: $250
Nightlife Situation:
There is very little to no partying in Woodstock, Vermont, which has a population of 3,000. If you're looking for party towns, visit the ski towns of Killington and Stowe and ski and party in the winter.
That said, Bentley's is the exception (read more below).
What People Wear Out:
The vibe here is very laid back — jeans and sweaters or t-shirts.
Average Cost Of A Pint: $4.75
I'm not much of a beer drinker, but we did have plenty of wine with dinner!
Extra Costs To Know About: There isn't a lot of public transportation in the area, and everything is spread out, so it's probably very expensive to get an Uber or Lyft.
Last Call: Places close early — about 10 p.m.
Average Total Cost Of A Night Out: $12
Cheapest Bar I'd Actually Go Back To: Bentley's
This place is fairly happening on a Saturday; it's got live music, but will taper down around 10 p.m.
Going Out Total: $15
What I Spent A Lot On That Was Totally Worth It:
We went to visit the Billings Farm, and met baby sheep, goats, and cows, and took a tour of the working dairy farm. It was free because I didn't spend any money on excursions this trip!
What I Spent A Lot On That Was Totally Not Worth It:
I didn't spend money on many activities at all — the farm and the hiking were totally free!
What I Spent Little Or No Money On That Was Awesome:
I bought cheese from the farm, which was exciting, because how often do you actually get to live the farm to table life?!
Favorite Thing I Did, Regardless Of Cost:
We hiked the Marsh-Billings National Historical Park and it was absolutely amazing!
Hidden Gem I Found:
The Woodstock Farmer's Market is worth a visit — and more than once! You can pick up the tastiest and freshest groceries imaginable. It was a mini-heaven.
The Photo I Took That Got The Most Attention:
Excursions/Extras Total: $0
General Shopping: $25
I spent about $25 at the Woodstock Farmer's Market on really random foodstuffs, like gluten-free granola, truffled Vermont cheddar cheese, and classic hard candies. The farmer's market was one of the better markets I've visited.
Souvenirs: Does cheese count?
Souvenirs/Shopping Total: $25
Best Woodstock Hack:
This is the perfect place for hiking, relaxing, and enjoying some R&R in a quiet Vermont town. Don't go expecting anything else!
If I had to do this trip again, I would go for four days and three nights, extending the weekend, as it's a long drive for a short trip otherwise.
Advice For Anyone Traveling Alone:
Woodstock is not the type of place you'd want to go alone — it's a quiet, small town and it's a six-hour drive from New York City. You'll definitely want some company!
Total Trip Cost: $1,030
Worth It? Of course — for the cheese alone (although the rest of it was a lot of fun too)!