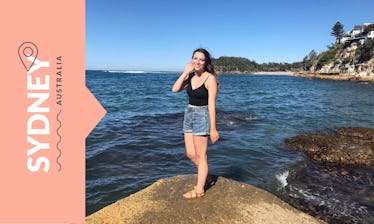 Wander Or Bust: Sydney Is Actually Possible On A Budget
Wander or Bust is an Elite Daily travel series that follows young women all over the globe to record their journeys as they experience the thrill of the far-flung and unknown.
They'll track their budgets, where they stay, where they eat and drink, and where they took that amazing Instagram that got them ~maximum exposure.~ The internet is full of travel advice, but none from women just like you. Read on for the tips no one else gives you, and when in doubt, get on the plane.
Here's Sarah Fielding's Wander Or Bust guide to Sydney, Australia.
My Name: Sarah Fielding
What I Do: Freelance writer
Where I Live: Manhattan, New York City
Where I Went: Sydney, Australia
How Long I Stayed: 5 days, 4 nights (though I spent six weeks all together)
My Spending Style: Thrifty. I'm always on the lookout for a deal and I refuse to pay full price for anything.
Where I Got My Recommendations:
My friend had visited Sydney while studying abroad in Melbourne so she gave me a recommendation for where to stay when I arrived. Besides that, I read online blogs and looked through other travelers' Instagrams for inspiration.
Exchange Rate At Time Of Travel: $1 USD = $1.3 AUD
What That Looks Like IRL: $50 USD = $65 AUD
Preferred Payment Method: I used credit cards as much as possible since I have a travel card that doesn't charge me for being international. On the flip side, when I take out cash, I do get charged.
Phone Bill: I bought an Australian SIM card, which cost me $40 AUD per month.
Mode of Transport: Airplane
Price: $750
Extra Costs: The train from the airport cost about $15.
Transport Total: $765
Accommodation: I stayed at two different hostels while in Sydney. The first was recommended by my friend and the second was a sister hostel of it.
Location: My first accommodation was located in the city center, the second was at the beach.
Price: $43/night
Extra Costs: Nope.
Would I Recommend It To Someone Else: Yes, both were in great locations and had friendly people.
Accommodation Total: $172
Breakfast-Lunch Cost: $12/day
If I ate in, then it cost me between $4 and $8. If I ate out, it cost me $15 to $20.
Dinner Cost: $15/day
Average Total Cost: $27/day
Tip Situation: Tipping was not really part of the culture in Sydney.
Food Situation:
In Sydney, there are so many food choices that it's incredibly tempting to eat out. However, I tried to make my own food as much as I could. People cooked together often. I am a breakfast person so I would always make a big breakfast.
Favorite Restaurant: Mad Pizza é Bar
One of my favorite places I ate at was called Mad Pizza in Bondi Beach, Sydney. Their gluten-free pizza was great.
Location: 15 O'Brien St. Bondi Beach, NSW 2026
Price: $15
Food Total: $135
Nightlife Situation:
In Sydney, there is a big mix of bars and clubs that people go to — your choice reflects your personal style, but there's something for everyone.
What People Wear Out:
No matter where you go out in Sydney, the vibe is pretty chill. People dress pretty casual, especially when going out near the beach.
Average Cost Of A Pint: $7.50
Extra Cost To Know About: Some clubs have cover charges, but that's fairly rare.
Last Call: Bars: 12 a.m; clubs: 1:30 a.m.
There is a a lot of nightlife in Sydney but the city is unique in that it has lock-out laws. Bars close around midnight with last call at 11:30. Even clubs don't let people in after 1:30 AM.
Average Total Cost Of A Night Out: $20
Cheapest Bar I'd Actually Go Back To: Papa Gede's Bar
I think all the bars were pretty much the same price wise, but this bar was cool.
Going Out Total: $100
What I Spent A Lot On That Was Totally Worth It:
I spent $23 to have a good view of the New Year's Eve fireworks in Sydney. I had always wanted to see the fireworks there, so it was a memory I'll never forget.
What I Spent A Lot On That Was Totally Not Worth It:
Eating out. While it was convenient and good, I wasted so much money when I could've cooked much more often.
What I Spent Little Or No Money On That Was Awesome:
The Coogee to Bondi Beach walk, it's free and a must-do in Sydney. The walk takes you past quite a few beaches as you explore the coastline. Walking in either direction, the sights are gorgeous.
Favorite Thing I Did, Regardless Of Cost:
Definitely the Coogee to Bondi Beach walk.
Hidden Gem I Found:
Generally, most places in Sydney are packed with people so it's hard to feel like anything is "hidden" so to speak, but any of the gorgeous coastal walks were really the highlights of the trip and I suggest you take loads of them.
The Photo I Took That Got The Most Attention:
Excursions/Extras Total: $23
General Shopping: $340
Souvenirs: Just photos and memories!
Souvenirs/Shopping Total: $340
Best Sydney Hack:
Try to eat out as little as possible because Sydney is incredibly expensive and you will blow all your money way too fast.
Advice For Anyone Traveling Alone:
Embrace it as much as you can. Traveling alone is such an amazing experience that allows you to grow and expand in ways nothing else allows you to. Meet people but also allow yourself some time alone. Both are equally important for your mental state.
Total Trip Cost: $1,535
Worth It? Completely and utterly worth it.