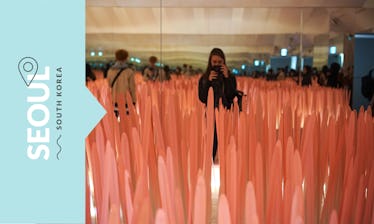 Wander Or Bust: Seoul, South Korea Is A Trip Unlike Any Other
Wander or Bust is an Elite Daily travel series that follows young women all over the globe to record their journeys as they experience the thrill of the far-flung and unknown.
They'll track their budgets, where they stay, where they eat and drink, and where they took that amazing Instagram that got them ~maximum exposure.~ The internet is full of travel advice, but none from women just like you. Read on for the tips no one else gives you, and when in doubt, get on the plane.
Here's Sarah Corsa's Wander Or Bust guide to Seoul, South Korea.
My Name: Sarah Corsa
What I Do: I'm a freelance writer.
Where I Live: I don't really have a home base in the U.S. right now because I'm traveling long-term this year. Before I left in January 2018, I lived in Las Vegas.
Where I Went: Seoul, South Korea
How Long I Stayed: 7 days, 7 nights
My Spending Style: I'm a thrifty spender. I try to save money whenever possible, but I also don't want to skip out on the essential experiences when I'm in a place.
Where I Got My Recommendations:
I didn't do as much research as I usually do before trips and ended up seeing the most and finding some of the best places to eat just by walking around. An acquaintance in Seoul did give me a great list of recommendations, and I always look up The New York Times' "36 Hours" column when I'm in a new city.
Exchange Rate At Time Of Travel: $1 USD = 1064.96 won
What That Looks Like IRL: $50 USD = 53248 won
Preferred Payment Method: Credit or debit cards are accepted almost everywhere, so that's what I used. I did need cash to buy subway tickets, and occasionally, a restaurant would only accept cash.
Phone Bill: My phone bill cost the same as a normal month in the U.S. My plan includes free texting and data abroad; calls are $.20 a minute, but I didn't make any this trip.
Mode of Transport: I flew in and out of Seoul.
Price: In total, I paid $460 for my flights. I was in Hanoi, Vietnam prior to Seoul and went on to Osaka, Japan from there, so those costs aren't reflective of what it would cost to fly from the U.S. Going to Seoul, I was on a full-service airline (Asiana) and I flew out on a budget airline (Peach).
Extra Costs: I did have to check my bag at the last minute leaving Seoul because it was over the weight limit (that tells you a bit about the shopping in Seoul) and it was a budget airline. That cost me $35. I took the train to and from Incheon Airport, and it cost about $3.50 each way.
Transport Total: $502
Accommodation: I stayed in a private room in a hostel.
Location: Time Travelers Relax Guesthouse is in Hongdae, a neighborhood at the confluence of three or four universities. As such, there are lots of young people, cheap shopping, and bars. Though it's a centrally located neighborhood, and the subway station is only a 5- to 10-minute walk from the hostel, Seoul is massive, so it still took about 30 minutes to get to other areas of the city.
Price: $48/night
It was a private room at Time Travelers Relax.
Extra Costs: As a hostel, Time Travelers Relax doesn't offer a lot of additional amenities, but all the basics are included: WiFi, a towel (if you're staying in a private room, otherwise it's about $1 for those in the dorm), and kitchen usage. Bottled water costs about $1, and laundry costs $3.
Would I Recommend It To Someone Else: Although there are definitely plusher accommodations, the atmosphere at Time Travelers Relax was incredibly warm and welcoming, and the staff was so accommodating. On Friday nights, everyone at the hostel goes out for Korean barbecue, and on Tuesdays, one of the staff members cooks everyone lunch. Plus, the location in Hongdae is a short walk from both the busy university area and the subway, with easy access to the airport line.
Accommodation Total: $415
Breakfast-Lunch Cost: Breakfast and lunch cost about $12.50, on average.
Dinner Cost: $18, on average.
Average Total Cost: $30.50
Tip Situation: Tipping isn't customary in Korea, so don't feel the need to.
Food Situation: Eating out seemed pretty common in Seoul and like an especially important part of people's social lives. Breakfast restaurants were practically non-existent, though.
Favorite Restaurant: Greens. Eat. Gom.
The bibimbap I ate here on my first full day in Seoul was my favorite of the trip.
Location: It's about a 20-minute walk from Time Travelers Relax Guesthouse in Hongdae.
Price: The bibimbap bowl alone was about $8
Honorable Mentions: Each of the vegetable toppings, though mostly unfamiliar to me, were delicious, and mixed together with the rice and sauce, it made for the perfect combination of flavors and textures. Even the seaweed is made in-house. My server showed me how to mix the bibimbap and wrangle a bite with a little bit of everything in it. It was fresh and filling and left me ready to keep walking.
Food Total: $200
Nightlife Situation: I'll preface this by saying that going out at night is usually not a huge part of my trips. I'm more of a get-up-and-go during the day kind of person. In Seoul, I'm sure the nightlife atmosphere varies widely by neighborhood. Hongdae and nearby Sinchon are surrounded by universities, so the streets are lively and crowded late into the night with a combination of clubs, bars, and, of course, karaoke. Though I didn't experience it myself, the swankier area of Gangnam would have a totally different vibe, as would Itaewon, the foreigner-heavy area. Shopping is also a late-night activity across Seoul.
What People Wear Out: People didn't seem to change their clothes for a night out. In Seoul, neutrals and classic, drapey looks transitioned from day to night.
Average Cost Of A Pint: Compared to food, alcohol seemed cheap in Seoul. A beer costs, on average, $5 to $6. Korean liquor is often even cheaper, though — a bottle of soju is about $4 and can be shared between two people (or downed yourself, depending on what kind of night you want to have).
Extra Cost To Know About: The subway stops running soon after midnight, so unless you're within walking distance of your accommodation, you'll have to catch a taxi back home.
Last Call: Clubs stay open until the early morning — 6 a.m., or even later.
Average Total Cost Of A Night Out: I spent about $5 to get a drink when I was out at night.
Cheapest Bar I'd Actually Go Back To: Like I mentioned, alcohol can be cheap in Seoul. A bar called Vinyl in Hongdae serves cocktails in plastic zip-lock bags from a sidewalk window for about $4.70. The cozy, closet-sized interior would be a good spot if you're looking to relax with your first drink of the night.
Going Out Total: $15
What I Spent A Lot On That Was Totally Worth It: Getting my nails done was pricey, but worth it. It might not seem like the most adventurous activity, but nail salons (and beauty in general) are huge in Seoul. Just look at Unistella's Instagram account for an idea of where nails can go; she's probably the most famous in Korea and internationally. I just got a single-color gel manicure because the costs can be exorbitant for nail art, but I still wanted the salon experience. My manicurist was the most meticulous I've seen. It cost me about $38.
What I Spent A Lot On That Was Totally Not Worth It: "Fancy" Korean barbecue was not worth it for me. When I say fancy, I'm talking about the places that serve Iberico ham or Wagyu beef, as opposed to the all-you-can-eat joints. Though the meat was incredibly delectable and tender, I can't justify the small portion sizes. It cost about $30.
What I Spent Little Or No Money On That Was Awesome: I attended a free concert with a Korean band on the rooftop of a Seoul high-rise. I've been familiar with Sofar Sounds — an organization that plans secret concerts around the world — for a few years now, but the concert I attended in Seoul was actually my first time attending an event.
Favorite Thing I Did, Regardless Of Cost: Before arriving in Korea, visiting a jjimjilbang was high on my list, and it in no way disappointed. Jjimjilbangs are essentially public bath houses, but describing it as such doesn't even come close to encompassing the entire experience. On the first floor are the baths, including ones with charcoal water, jade water, and so on. The rest of the building is really a relaxation funhouse, with numerous saunas, a fitness room, a restaurant, a hair and nail salon, and a karaoke room.
Hidden Gem I Found: I passed the Daelim Museum en route to Gyeongbokgung Palace and returned a couple days later. It only features one exhibition at a time, and during my visit, the four floors featured paper sculptures by various artists. Strolling through the museum and then popping over to the next-door cafe made for a great afternoon.
The Photo I Took That Got The Most Attention: Dumplings are always a crowd-pleaser.
Excursions/Extras Total: I spent about $84 on activities and other extras on the trip.
General Shopping: I spent just over $100 on shopping in Seoul.
Souvenirs: My recent introduction to the Asian Beauty subreddit meant I had a long list of skincare products to purchase, many of which are either unavailable or difficult to purchase in the U.S. I'm most excited about the 96-percent snail mucin essence by CosRX, otherwise known as snail slime.
Souvenirs/Shopping Total: $100.
Best Seoul Hack: If you're staying in Seoul for a week or longer, consider splitting your stay between two different areas. Seoul is massive, and though I enjoyed the Hongdae area, getting out to explore other areas took half an hour on the train. I would have liked to get a sense for another neighborhood.
Advice For Anyone Traveling Alone: Stay at Time Travelers Relax Guesthouse! Or its sister hostel, Time Travelers Party Hostel, if that's more your vibe. There were a lot of solo travelers there, and the common area felt like a living room. Plus, the staff arranges meals that bring travelers together.
Total Trip Cost:
Worth It? Seoul had never been at the top of my bucket list, or even on it at all, but it exceeded my expectations in every way. I could have spent three weeks there and done something completely different every single day, so a week just made me want to see more.