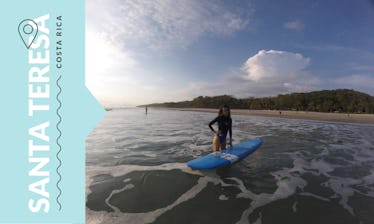 Wander Or Bust: Santa Teresa, Costa Rica Is All About Surfing & Snacking
Wander or Bust is an Elite Daily travel series that follows young women all over the globe to record their journeys as they experience the thrill of the far-flung and unknown.
They'll track their budgets, where they stay, where they eat and drink, and where they took that amazing Instagram that got them ~maximum exposure.~ The internet is full of travel advice, but none from women just like you. Read on for the tips no one else gives you, and when in doubt, get on the plane.
Here's Cori Sue Morris' Wander Or Bust guide to Santa Teresa, Costa Rica.
My Name: Cori Sue Morris
What I Do: Social media strategist, brand consultant, writer, and founder of Bitches Who Brunch, a lifestyle website covering food and travel.
Where I Live: Manhattan, New York, USA
Where I Went: Santa Teresa, Costa Rica
How Long I Stayed: 6 days, 5 nights
My Spending Style: Extravagant. I spend without consequence; I'd rather have a good time than be on a budget.
Where I Got My Recommendations:
I stumbled upon the town, Santa Teresa, on Instagram, and I found the hotel via Google. I didn't do much research before making the decision — I like to wing it!
Exchange Rate At Time Of Travel: $1 USD = ₡568 CRC (but there is inflation, so prices are very similar)
What That Looks Like IRL: $50 USD = ₡28,422 CRC
Preferred Payment Method: Santa Teresa is mostly cash, so it's very important to take out cash before you go! They take colóns, the local currency, and dollars everywhere.
Phone Bill: I have AT&T, so I used the $10 a day international plan. That totaled $50 extra for the five days I was gone. I travel with a Mifi, so I use WiFi to communicate (FaceTime, iMessage, WhatsApp), but there was WiFi at the hotel and most restaurants.
Mode of Transport: Airplane and rental car
I flew from Newark to Liberia airport, Costa Rica, then we rented a car and drove five hours through a rainstorm in the jungle on unpaved roads to Santa Teresa. It was an adventure!
Price: The flight was $600 round-trip and the car rental was $300.
Extra Costs: The Lyft to Newark was $80
Transport Total: $980
Accommodation: Hotel Casa Marbella
Location: Hotel Casa Marbella was located right in the center of town, near all the best restaurants and bars, but it was on the hill above all the dirt and noise.
Price: $150/night
Extra Costs: Not really. Coffee is complimentary at the hotel, and there was a full kitchen, so you could buy groceries.
Would I Recommend It To Someone Else:
Hotel Casa Marbella was an incredible experience — it was serene and relaxing, too. The prices are affordable, $100 to $200 a night, and we chose this hotel because of the beautiful views and the pool. It's also elevated above the town, which has a dirt road and lots of trash and stray dogs, so it made our experience nicer.
Accommodation Total: $350
$700 for five nights, divided by two people.
Breakfast-Lunch Cost: $15/day
There are tons of cute cafés that serve breakfast in Santa Teresa. It's about $30 for two people to get breakfast, but you can go cheaper if you order just pastries and coffee or a smoothie.
Dinner Cost: $37/day
Dinner was about $75 for two people to eat at a nice restaurant.
Average Total Cost: $57/day
Tip Situation: People generally tip 10 percent.
Food Situation:
Most people eat out in Santa Teresa, which is packed with cute cafés, ice cream shops, pizza parlors, and sushi spots.
Favorite Restaurant: Koji's
We loved this place for sushi, as it has an adorable outdoor patio with string lights, was filled with young people from all over the world, and served delicious sushi!
Location: Calle Buenos Aires, Provincia de Puntarenas, Costa Rica
Price: $40
This place has fresh fish, cool vibes, and nothing beats eating dinner outside under the stars in the Costa Rican jungle!
Food Total: $550
Nightlife Situation:
The vibe is super laid-back and chill. There are tons of beach bars. People go out early because they wake up early to go surfing.
What People Wear Out:
It's a surf town, so people wear sandals, shorts, and tank tops.
Average Cost Of A Pint: $5
There are tons of cheap Costa Rican beers, but there's also a craft-brewing scene and cocktails. Beers are less than $5, and cocktails about $10.
Extra Cost To Know About: Not really.
Last Call: 12 a.m.
Average Total Cost Of A Night Out: $20
Cheapest Bar I'd Actually Go Back To: Rocamar
Going Out Total: $30 — it's just drinks at beach bars.
What I Spent A Lot On That Was Totally Worth It:
We took surf lessons for $50 a day at a surf shop called Nalu, and it was totally worth it.
What I Spent A Lot On That Was Totally Not Worth It:
I didn't spend money on anything I regret; I didn't buy any souvenirs. The food, lodging, and surf lessons were fairly expensive, and it was all worth it.
What I Spent Little Or No Money On That Was Awesome:
The beaches are all public and free. If you have time, explore as many as you can.
Favorite Thing I Did, Regardless Of Cost:
Surfing and eating — they were the highlights of the trip.
Hidden Gem I Found:
We visited a bar, Clandestina, which literally means "clandestine," that was hidden in the jungle behind a butterfly farm. The cocktails were incredible — especially the spicy strawberry margarita — and the food was all-natural, organic Spanish fare (like empanadas and the best fish tacos!).
The Photo I Took That Got The Most Attention:
Excursions/Extras Total: $150
General Shopping: $0
I didn't buy anything, but there are really cute swimsuit shops in town!
Souvenirs: $0
Souvenirs/Shopping Total: $0
Best Santa Teresa Hack:
Santa Teresa is an absolute must-visit, but it's hard to get to. You absolutely need to rent a four-wheel drive to get there, and be sure to drive during the day, as it is very dark at night. Also, bring cash and bug spray.
Advice For Anyone Traveling Alone:
Stay in a hostel, and go surfing — you'll make lots of friends.
Total Trip Cost: $2,060
Worth It? It was absolutely worth it. Santa Teresa is truly paradise.