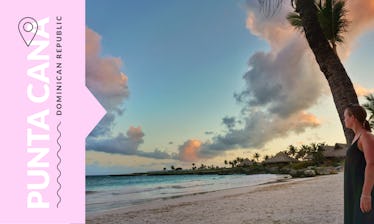 Wander or Bust: Punta Cana Is Paradise — Just Bring Your Sunscreen
Wander or Bust is an Elite Daily travel series that follows young women all over the globe to record their journeys as they experience the thrill of the far-flung and unknown.
They'll track their budgets, where they stay, where they eat and drink, and where they took that amazing Instagram that got them ~maximum exposure.~ The internet is full of travel advice, but none from women just like you. Read on for the tips no one else gives you, and when in doubt, get on the plane.
Here's Katie Lockhart's Wander Or Bust guide to Punta Cana.
My Name: Katie Lockhart
What I Do: Freelance travel and food writer
Where I Live: Brooklyn, New York
Where I Went: Punta Cana, Dominican Republic
How Long I Stayed: 7 days, 6 nights
My Spending Style: Occasionally indulgent. I don't throw money around, but I will definitely splurge on more than a few expensive things on a vacation.
Where I Got My Recommendations:
I got recommendations from the TripAdvisor and the Dominican Republic tourism website. My parents were also staying for the month and had a few places they liked.
Exchange Rate At Time Of Travel: $1 USD = $49.54 DOP
What That Looks Like IRL: $50 USD = $2,477 DOP
Preferred Payment Method: Credit cards for most things, but I brought along cash for tipping.
Phone Bill: Same as always. I have a T-Mobile plan so it has unlimited roaming in over 150 countries outside of the U.S. The resort also had great WiFi.
Mode of Transport: Airplane
Price: $420
Extra Costs: No, I got a lift from the airport as my parents had already arrived.
Transport Total: $420
Accommodation: I rented a beach-front condo.
Location: The Cap Cana area. It was located inside a massive resort and real estate complex about 15 minutes from the Punta Cana airport, right on the beach.
Price: $100/night
There are plenty of all-inclusive resorts that range from $100 to $400 a night if you don't have the luxury of a beachfront condo.
Extra Costs: My parents rented out the condo for the whole month, otherwise the price would have been closer to $300 a night.
Would I Recommend It To Someone Else:
Yes, it was extremely quiet, and we often had the beach to ourselves.
Accommodation Total: $600
Breakfast-Lunch Cost: $10/day
We purchased the ingredients for the week at the nearby grocery store.
Dinner Cost: $50/day
Average Total Cost: $60/day
Tip Situation: It's customary to tip around 10 percent of the bill. Most places say service is included in the bill, but we were told that money did not go to the servers.
Food Situation:
We had a full kitchen so we made a lot of lunches at home. Lunch consisted of sandwiches and chips. For dinner, we'd go out to one of the dozens of dining options in the Cap Cana area. There was a large number of Italian restaurants and items on almost every menu.
Favorite Restaurant: Bar Trattoria Mamma Louisa
Location: Galerías Comerciales de Punta Cana, Dominican Republic
Price: $30
This restaurant was also slightly less expensive because it was outside of the resort complex and locals go there. The pasta was cooked perfectly, and the ingredients, including the shrimp and tomatoes, were really fresh. Their outdoor dining was also very comfortable and cute.
Food Total: $500
Nightlife Situation:
We were not staying in a spring break resort complex, so it was pretty quiet. There were several bars to choose from, but there weren't many people at them, although the party vibe definitely picked up at the beginning of Easter weekend. People were playing music in their condos and partying until the wee hours.
What People Wear Out:
I didn't see many people going out, but the Caribbean is pretty casual. Mostly flowy dresses and cute tops. There was one club in the resort complex called Versus that would definitely be a mini skirt and heels kind of place, but we didn't go.
Average Cost Of A Pint: $5
Extra Cost To Know About: There is no Uber on the island, so you'd have to pay for cabs. You can go anywhere inside the Cap Cana resort for $3 a ride.
Last Call: Depends upon the bar, but it can range from 8 p.m. to 1 a.m.
Average Total Cost Of A Night Out:
We really didn't go out much, but the drinks here are fairly cheap, so the overall cost wouldn't be astronomical.
Cheapest Bar I'd Actually Go Back To:
API Beach Bar near our condo had $5 beers and $10 frozen cocktails. It was the closest place to get drinks and they were good!
Going Out Total: $50
What I Spent A Lot On That Was Totally Worth It:
We did a half day excursion with Boogies Adventure Macao. We drove dune buggies down rural rounds to a coffee and tobacco plantation and swam in a cave. Then we drove them to a local beach. It cost $89 total, but we had a really good time.
It was pouring rain outside, so we all got covered in mud when we drove through a puddle. We had such a good time!
What I Spent A Lot On That Was Totally Not Worth It:
I bought a $6 cup of gelato at the BlueMall Punta Cana. It was good but not $6 good.
What I Spent Little Or No Money On That Was Awesome:
I desperately needed a new sunhat for the beach and ended up finding one at the BlueMall. It only cost $30 and didn't look terrible!
Favorite Thing I Did, Regardless Of Cost:
I'm a beach bum so spending the day lounging on a beach chair and swimming in the Caribbean Sea is pretty close to perfect for me.
Hidden Gem I Found:
We did a day trip on our own to Parque Nacional Del Este and found the most gorgeous deserted beaches and hiking trails.
The Photo I Took That Got The Most Attention:
Excursions/Extras Total: $1,000
General Shopping: $65
Souvenirs: I don't really collect.
Souvenirs/Shopping Total: $65
Best Punta Cana Hack:
Think about renting a beach condo for a month instead of a week. Financially, it is way cheaper. If it has been just a week it would be $300 a night instead of $100. You can also find friends or family to go and pay for the weeks you can't be there.
Advice For Anyone Traveling Alone:
Bring only a carry-on bag. No matter how much you think you need those extra pair of shoes, you don't. It will eliminate the potential for having your bag get lost and will make it easier for you to carry around by yourself.
Total Trip Cost: $2,665
Worth It? Yes, definitely. As I get older, the more I realize how important it is to hang out with my parents. Visiting them in the Dominican Republic was the perfect excuse.