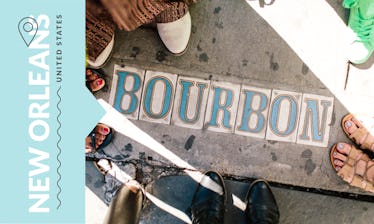 Wander Or Bust: New Orleans Is More Than A Stroll Down Bourbon Street
Wander or Bust is an Elite Daily travel series that follows young women all over the globe to record their journeys as they experience the thrill of the far-flung and unknown.
They'll track their budgets, where they stay, where they eat and drink, and where they took that amazing Instagram that got them ~maximum exposure.~ The internet is full of travel advice, but none from women just like you. Read on for the tips no one else gives you, and when in doubt, get on the plane.
Here's Tina Kolokathis' Wander Or Bust guide to New Orleans, Louisiana.
My Name: Tina Kolokathis
What I Do: Senior Entertainment Editor, Elite Daily
Where I Live: Long Island, New York
Where I Went: New Orleans, Louisiana
How Long I Stayed: 5 days, 4 nights
My Spending Style: Occasionally indulgent
Where I Got My Recommendations:
Friends! I have tons of friends that have visited New Orleans before, and I have been once before as well.
Preferred Payment Method: We primarily used credit cards to get around. We did keep some cash on us, though, just in case we encountered any cash-only spots.
Phone Bill: Same country, same bill.
Mode of Transport: Airplane
Price: $450
Extra Costs: We took Lyfts to and from the airport for $40 total.
Transport Total: $490
Accommodation: Airbnb
Location: The AirBnB was located in Bayou St. John, about a 30-minute walk from the French Quarter. We loved being outside of all the craziness that is Bourbon Street, and we walked to the Quarter every day.
Price: $60/night
Extra Costs: There was a service fee, so it came out to a little more than $60. We also did take Lyfts back to the apartment each night; they cost around $5.
Would I Recommend It To Someone Else:
Absolutely! We walked to a nearby coffee shop every morning where I got an iced tea and something small to eat. Then we walked in the perfect weather to the French Quarter, through Louis Armstrong Park. It was perfect and a great way to see the city with a bit of a cut on cost.
Accommodation Total: $301
Breakfast-Lunch Cost: $30/day
Dinner Cost: $40/day
We went to some really well-known spots that cost more like Pat O'Brien's (at places like this, we also ordered alcohol and appetizers), and then went to some tiny hole in the wall spots that cost $15 or less.
Average Total Cost: $70/day
Tip Situation: 18-20 percent, like the rest of America.
Food Situation:
OK, I can't even begin to go into how amazing the food in New Orleans is. I seriously think it's the best food I've eaten in my life. Each morning, we would get a muffin or a piece of zucchini bread from the coffee place and start our walk to the French Quarter. From there, we normally did a brunch and then dinner. We obviously fit in beignets every day, too.
Favorite Restaurant: Jaques-Imo's
Location: 8324 Oak Street, New Orleans, LA
Price: $130 for two — $65 if we split it.
It's way outside the French Quarter, so you need to take a Lyft or Uber there. But let me tell you, it's worth it a million times over. Their jalapeño cornbread is amazing and comes hot as soon as you sit down. I got the grilled mahi mahi and my fiancé got the blackened redfish. It all was to die for.
Food Total: $300
Nightlife Situation:
I think this goes without saying, but New Orleans is all about nightlife. Bourbon Street is filled with bars and clubs that are packed any night of the week, albeit with lots of tourists. Just go for it; this is what New Orleans is known for. There's also a strip of Frenchmen Street (just a few blocks over) that you need to check out if you love live music. Each of the venues on those two blocks hosts musicians seven days a week.
What People Wear Out:
Definitely casual! There were times where I went out during the day to sightsee and ended up spending the whole day/night out. I wore jeans, shorts, and cute tops. Guys were mostly in t-shirts and jeans, too. There are some more fancy places like restaurants and clubs that would require some dressing up, but I stuck to the casual spots.
Average Cost Of A Pint: $6
Extra Cost To Know About:
Not really! Most clubs didn't have covers, but definitely bring some singles to tip any live musicians.
Last Call: 2 a.m.
Average Total Cost Of A Night Out: $30
I don't need many drinks to start to feel tipsy, so I would get four to five drinks and be good to go for the night.
Cheapest Bar I'd Actually Go Back To:
Most of the bars were priced the same, especially on Bourbon Street. Snake and Jake's Christmas Club Lounge is uptown (in NOLA, this refers to being further upriver, not necessarily north), away from the chaos of the Quarter, and a standout for being dive-y, fun, and cheap.
Going Out Total: $200
What I Spent A Lot On That Was Totally Worth It:
We went on an airboat ride in the swampland, organized by Louisiana Tour Company (they pick you up at your hotel!), and it was SO cool. We saw so much wildlife and even got to hold a baby alligator named Ryder.
What I Spent A Lot On That Was Totally Not Worth It:
A hand grenade. Those drinks definitely have tons of alcohol, but you can't taste it because of the SUGAR. Talk about a hangover.
What I Spent Little Or No Money On That Was Awesome:
Beignets at Café Du Monde. All day, every day.
Favorite Thing I Did, Regardless Of Cost:
Walk every day into the French Quarter. We got to see so much of it and really knew the neighborhood by the end of our trip.
Hidden Gem I Found:
Neyow's Creole Café. This Mid-City restaurant was recommended to us from our Lyft driver, and it was one of the best meals of the trip. It was true Southern home-cooking, and I'm salivating just thinking about it.
The Photo I Took That Got The Most Attention:
Excursions/Extras Total: $200
General Shopping: $0
Souvenirs: $100
A cute little mug from Cafe Du Monde that has a tiny beignet on it!
Souvenirs/Shopping Total: $100
Best New Orleans Hack:
Wear comfortable sneakers, and be prepared to be out all day and night! New Orleans specializes in eating, drinking, and live music. Make sure you enjoy all three.
Advice For Anyone Traveling Alone:
Be friendly, and you'll make tons of friends. I've met some of the nicest people ever in New Orleans. The locals are so welcoming and want you to have the best time. And ask them for recommendations — they're always on point.
Total Trip Cost: $1,641
Worth It? YES!