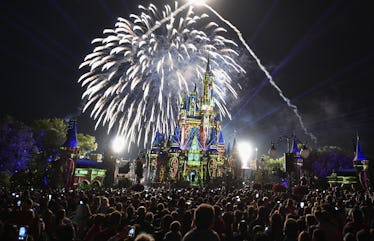 Disney World Is Opening Up A Brand New Resort, But You'll Have To Wait To Book
Gustavo Caballero/Getty Images Entertainment/Getty Images
If you've ever taken a trip to the East Coast's version of the happiest place on earth, you're most likely somewhat aware of how much each of its four theme parks have to offer. From food and wine tours at Epcot, to character breakfasts in the Magic Kingdom, to experiencing life as a tiny toy in Disney's Hollywood Studios, and endless safaris in the Animal Kingdom, there's so much to do and there's always so little time. If you're all about immersing yourself in the great outdoors, though, Walt Disney World's newest resort is nature-themed. Yes, it's true, and even though it sounds like a total blast, you'll have to wait a while to book your trip. *Cue sad violin music.*
According to USA Today, Walt Disney World is about to build a spankin' new nature-themed resort, and if you know me at all, you probably have a somewhat vague idea of how excited I am right now. Does this mean there's going to be giant redwood trees? A field of flowers? Pocahontas? Maybe a bright blue lake or a babbling brook? The possibilities are truly endless in the realm of nature, and I can hardly wrap my head around it. Unfortunately, there aren't a ton of details out about it yet, but the one thing I know for sure is that it's not going to be open until 2022 (I know, it's a major bummer), and it'll have a whopping 900 hotel rooms as well as a variety of villas (if you're all about timeshares, that is). Sounds pretty neat to me.
This exciting new project is one of three other construction projects (that's right, three!) currently in the works at Orlando's version of the happiest place on Earth right now, according to USA Today. Joining a whopping 26 other resorts and four theme parks, this nature-themed experience will be yet another perfect addition to the vast world that is Disney. If you couldn't already tell, I'm really, really stoked. It's so up my alley.
Even though Disney's highly-anticipated nature-themed resort isn't opening for quite a while (seriously, not for another four freakin' years), make sure you still head over to Disney World sometime this month to try any of its spooky AF Halloween-themed cocktails. The Forbidden Apple is a creepy ode to Snow White, while the Autumn Smash is a nod to all of you spooky skeletons out there. You can find both of these hauntingly delightful beverages at Jack Lindsay's Hangar Bar, a rustic space inspired by Indiana Jones. To be completely honest, both look good enough to die for.
So, just when you thought Disney had it all, it turns out it's lacking something totally and utterly vital: a nature-themed resort. I mean, luckily, it's coming in clutch with one in the works, and sadly, fans won't even be able to enjoy it until 2022. But, when it's ready, you know I'll be there. In the meantime, though, Disney World has a whole lot to offer. So, grab a Halloween cocktail and get spooky.