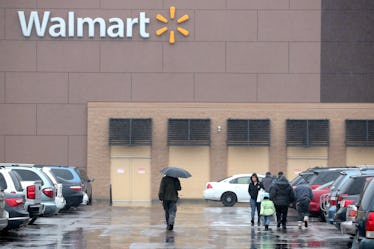 You Can Get $100 Off An iPhone 8 Plus During Walmart's Cyber Monday Sale
Scott Olson/Getty Images News/Getty Images
Even though it felt like none of us would be able to recover from Thanksgiving's festivities, and we might still be digesting our feasts, it's time to get shopping. I, for one, don't usually take part in Black Friday's shopping extravaganza for a few reasons like a particular disaste for being potentially trampled, but thankfully, Cyber Monday has me covered. This year, dozens of well-known retailers will offer some incredible deals to celebrate the holiday, but Walmart's Cyber Monday 2018 sales might be the best yet. Cha-ching.
Walmart is arguably one of the biggest giants in retail history, so it comes as no surprise that this year, they're offering some incredible products at some even more incredible prices. Looking for a state of the art home stereo system? Check. Been searching for the perfect accessory to compliment your Christmas party outfit? Check. I'm not exaggerating when I say that Walmart has literally thought of everything when it comes to shopping. Thank you, Walmart.
To start things off with a bang, Walmart is offering a Straight Talk Apple iPhone 8 Plus with 64GB for $599.99 and a Straight Talk Apple iPhone 8 with 64BG for $499.99. In case you're all set in the phone department, the rest of their electronic deals are pretty sweet. Upgrade your Netflix and chill situation with a Samsung 58" Class 4K (2160P) Ultra HD Smart LED TV, which will run you $447.99 instead of the usual $649.99.
If you're looking to treat yo' self, consider these gorge Round Diamond Stud Earrings, certified half-carat in 14K Gold for $229.99. Walmart's Cyber Monday savings can also help you check a few things off your holiday shopping list. Snag a Dyson V6 Trigger Handheld Vaccum for your dad, because screw gender roles! Give your mom the gift of a therapeutic glow with a Himalayan Glow Natural Crystal Salt Lamp Twin Pack, and score a Nintendo Switch Console with Mario + Rabbids Kingdom Battle games for your sibs to enjoy. Just imagine the rush you'll get from completing your holiday shopping with a few clicks! Ahh!
Of course, there will be many more amazing deals, including in their home and toy departments, and Walmart has made it even easier for customers to access them all via their website. They're offering a streamlined shopping experience by curating the best deals by category and item — as if spending money needed to be made any easier, amirite?!
I must admit that I really admire those who are willing to go out immediately after Thanksgiving and brave Black Friday. However, I'm personally a shop online gal myself, and I'm sure I'm not alone. Whether you choose to brave the crowds and get hands on or shop from the comfort of your couch this holiday season, it would be impossible not to find a handful of great items, but for those who are planning on putting shopping off for a little while longer, there's still some savings for you to enjoy.
According to their website, Walmart will offer free two-day shipping during the holiday season. Of course, the retailer will always offer this sweet deal for orders $35 or more, but what makes this holiday treat even more special is that Walmart just recently announced that a slew of more items will be eligible for two-day shipping just in time for the holidays. So don't forget, Walmart's Cyber Monday kicks off this year at 12:00 a.m. ET on Monday, Nov. 26, so set your alarms, have your credit card handy, and get busy! Seriously, so there's much to be thankful for this holiday season.