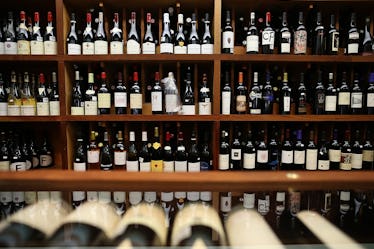 This Major Brand Is Selling Wine Now, & The Price Is Too Good To Be True
Justin Sullivan/Getty Images News/Getty Images
Not everyone might love Walmart as a company, but I think anyone can get excited about cheap wine. Walmart is selling cheap wine now, which already sounds like it'll be an amazing deal. But when you find out the price and the quality that the chain superstore is promising, you'll be Google mapping the closest Walmart to you ASAP.
According to Business Insider, the retailer is launching their own wine label, "Winemakers Selection" that will appear in all 1,100 stores across the country. Walmart will be sourcing their wines from California, France and Italy, which sounds super promising. Apparently customers will have their choice of 11 different wine varieties and will cost you about $11 per bottle, which is freaking fantastic.
But the best part? According to Nichole Simpson, Walmart's senior wine buyer, the bottles will "drink like a $30 to $40 bottle of wine" — which is just such a blessing. I might be a little skeptical about Simpson's promise, but I will gladly run to a Walmart in the near future and test this wine out for myself. Wither way, $11 bottles of wine are always a win in my book. But if they taste as good as a $40 bottle does, consider me a Walmart wine lover for life.
According to USA Today, Simpson spent a lot of time with domestic and international winemakers in order to develop this perfect affordable blend. She's gotten to know the producers of each bottle, so you know that they've been approved by someone that knows their stuff. She reportedly spent time taking into account the look of the bottles as well. "We have made sure (the labels are) easy to read and 'clean' for the customer because they don't have a lot of time," Simpson told USA Today. So you know exactly what you're getting in each bottle, which is really great.
But Walmart is entering a tricky market, here. The Department of the Treasury reported that a whopping 717,866,271 gallons of wine were bottled in the United States in 2017 alone, which is just nuts. With so much wine already in circulation in this country, it might be risky to try and jump in on the game. But with the $11 price tag, I think that Walmart won't have any problem making their new wines a success.
I think that the overall top dog in the cheap wine game is Trader Joe's, obviously. The chain is known for their super affordable groceries, but it's also become famous for their über cheap wines. Affectionally known as "Two Buck Chuck," the store's Charles Shaw wine label is loved by college students and anyone trying to get lit on a budget alike.
Walmart is really trying to keep up with the times here. In March the chain announced that they would launch their own line of home meal kits, which have become increasingly popular with companies such as Blue Apron and Hello Fresh coming onto the scene. Walmart is clearly trying to become trendy among the 20-something crowd, and this move to create their own affordable wine line will surely be a hit with this crowd.
I'm already excited, so Walmart can consider this to be an automatic hit. There are no Walmarts in my immediate vicinity in New York, but I'm already plotting how I can reach the closest store via public transportation.
Apparently this wine has already been launched in all of Walmart's stores, though, so I'm late to the game. Still, I cannot wait to try this wine. I consider myself a cheap wine aficionado, so you better believe that I'll be trying this very, very soon. I'll let you know how it goes.