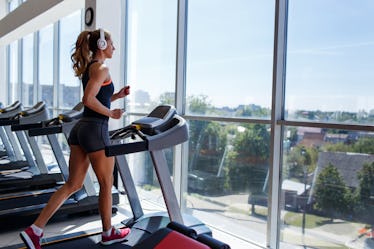 Virtual Disney Treadmill Workouts Are A Thing & You'll Be Hooked
Shutterstock
One of the benefits of going for a run outside is being able to soak up the beautiful views. However, with the right virtual video, your treadmill can have that, too, from the comforts of your home. For someone who's wishing they were at "the happiest place on Earth," virtual Disney treadmill workouts can be a real dream come true.
Usually, when you're on the treadmill, you may switch back and forth between watching a TV show and listening to your hype-up playlist. Well, now you can set up any of these nine virtual Disney videos and your favorite Disney songs for a truly magical experience. Each video walks through a different Disney park or resort you know and love, so it'll feel like you're at your favorite place without every having to leave home.
If you've always dreamed of taking a morning jog through Epcot or Disneyland, now you can. It's as simple as setting up your computer or phone so you can focus on the screen as you start running on the treadmill. If you need to, you can adjust the playback speed on YouTube to go as fast or slow as you'd like. It really is that simple, and soon enough, your daily workouts can take you to a whole new world.