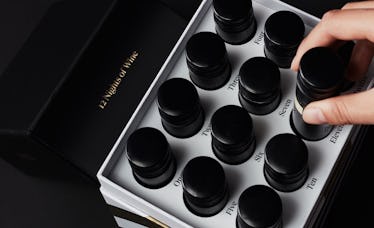 This Wine Advent Calendar Is The Booziest Way To Count Down To The Holidays
You probably started your holiday countdown with a 25-day advent calendar in early December, but if you're a wine lover like me, you may want to add another one. Vinebox's 12 Nights of Wine advent calendar is a perfectly boozy way to count down to the holidays. With 12 different wines from around the world, you can't possibly go wrong with this treat for yourself or someone else.
When you order the Vinebox Advent Calendar, you'll receive world class wines from regions across the world like Italy, France, Spain, and more. Each wine is packaged by the glass, so you'll have the perfect amount to enjoy in one sitting without having to worry about corking up anything leftover. Here are exact details of what's included in your box, according to the website: "12 wines, a mix of red and white specially curated for the holiday season, in our limited edition 12 Nights Box. The box is designed so you can enjoy one glass each night without peeking at what's to come!"
The website describes the experience as "wine tasting," not "drinking," so you can imagine yourself on a fancy vineyard somewhere far, far away when you open up each bottle. If you're already excited, there's more — 10 lucky winners will receive a golden, sparkly bottle in their advent calendar, which will enable them to win wine for all of 2019, which is a $644 value. Um, yes please!
If 12 days of booze isn't your thing, you can always select the "This is a gift" option when ordering and send it to a friend or family member. Vinebox is priced at $129, which breaks down to about $10.75 per glass, not to mention the potential of free wine for an entire year.
But wait, there's more! Vinebox also has a Winter Edition Box for $87 that offers customers "classic cold weather pairings with a twist." Vinebox says you'll get to "taste wines 100 years in the making" from "6th generation estate owners" and "invented by Barons in the middle of the 19th century... In short, history in a glass."
Here's what you're promised with this Winter Edition Box:
Within this Winter Edition Box, you will receive 9 of our favorite wines this season (7 red, 2 white), by the glass, including Italian fave Chianti, new French 'declassified' wines and more. Each 10 cl pour is perfectly preserved as if directly from the vineyard.
If you've never heard of Vinebox before, this is a good time to get fully acquainted. Vinebox is a wine delivery company that believes "life is too short to drink bad wine." Their wines are preserved in a closed nitrogen environment, so they don't come into contact with oxygen, and they're sourced from all over the world. Customers select whether they prefer whites, reds, or love both kinds, and can also select if they want to receive a box annually, quarterly, or just one time. This service is truly perfect for wine lovers everywhere, and will make a foolproof gift for your booziest bestie.
So whether you go for the 12 Nights of Wine Advent Calendar, the Winter Edition Box, or a recurring subscription, you can't go wrong with Vinebox for the holidays. Happy drinking!