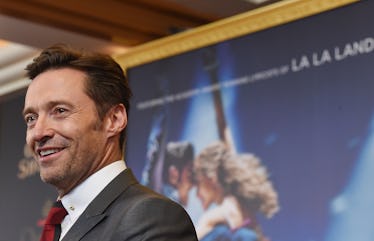 'The Greatest Showman' Live Video Has Twitter Pumped For The Real Thing
Michael Loccisano/Getty Images Entertainment/Getty Images
If you weren't getting your fill of musical extravaganza with A Christmas Story Live!, there was another little treat for viewers on Dec. 17. The video of The Greatest Showman performance during A Christmas Story Live! was an amazing sneak preview of the upcoming movie, and Twitter was all about it. It was a two for one deal on over the top holiday musicals!
During Sunday night's live show, musical theater fans got an extra-special bonus treat with a live performance of a song from the new movie, which comes out on Dec. 20. Stars Hugh Jackman, Zac Efron, Zendaya, and Keala Settle performed "Come Alive," one of the original songs from the movie. Though the preview was only one song out of the movie, it wasn't holding back on the production — according to Playbill, the live performance included 150 dancers, bringing the extravagance with a 360-degree shot. It was, according to Jackman's own Twitter account, the "world's first ever live commercial."
And honestly, it looked and sounded seriously good, which isn't a surprise for anything that has Jackman singing. What with the colorful costumes, great cast, and oh yeah, the awesome song, I was double-checking theater times before the song was done. And I'm not alone, clearly. Everyone on Twitter seemed super stoked for the upcoming movie.
I mean, just look at these moves.
If you missed the live version, star Hugh Jackman has you covered; he posted the video to his Twitter. Thanks, Hugh!
Twitter was screaming.
And yeah, some folks got a little snarky.
The Greatest Showman, which comes out on Wednesday, Dec. 20, is an original biographical musical that tells the story of showman P.T. Barnum, whose name might be familiar if you've ever been to or heard of a circus. Jackman himself plays the circus founder, with Zendaya, Settle, and Efron as performers. Zendaya takes on the role of acrobat Anne Wheeler, Settle is bearded lady Lettie Lutz (aka the one who totally killed it on those high notes in the trailer), and Efron plays actor Phillip Carlyle. If this trailer is anything to go by, the movie is going to be just as much of the "greatest show on earth" as a Barnum-branded circus ever was.
And if you want more of the live version of the performance, Jackman has you covered there, too. Besides the trailer itself, Jackman also posted videos of the rehearsals for the trailer which show the scope of The Greatest Showman. A few days before they did it live, Jackman shared a couple of videos to Twitter that showed the cast — not in costume, sadly, though Jackman himself is wearing a top hat with his t-shirt — getting their moves down.
Can we just pretend that the movie itself is going to be live, too? I'm all about this extra energetic Hugh Jackman in a top hat.
The trailer aired during the live musical version of A Christmas Story on Fox on Dec. 17, and was clearly the highlight of the show for many people. Considering that the main show is itself a beloved Christmas classic, that's some seriously stiff competition. But the two musical movies have something in common — The Greatest Showman and A Christmas Story Live! both have their music written by the same people. Namely the duo of Justin Paul and and Benj Pasek, who wrote the music for both movies (as well as the Tony-award winning Dear Evan Hansen).
So basically, these two are a match made in musical theater heaven, and if you liked either one at all you should probably check out the other one. Now, if you don't mind me, I'm going to go ahead and get those movie tickets. Practice what you preach, after all.