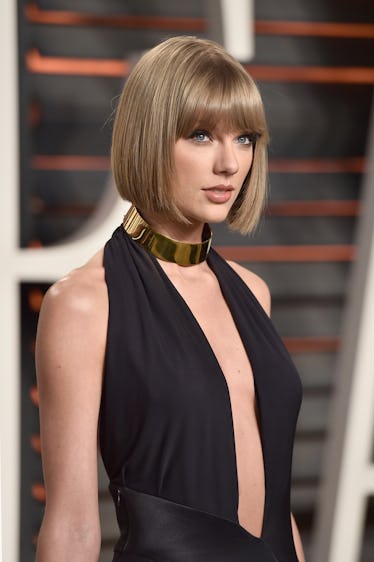 This Video Of Taylor Swift Singing "Call It What You Want" Is So, So Romantic
Pascal Le Segretain/Getty Images Entertainment/Getty Images
Taylor Swift dropped "Call It What You Want" at midnight on Nov. 3 and it's the romantic bop of your dreams. Fans were quick to connect the dots and figure out it's all about her boyfriend, Joe Alwyn, (at least, that's what everyone thinks) but then this video of Taylor Swift singing "Call It What You Want" on Instagram took things totally next level.
Fans lost it, and not just because Swift's angelic voice was giving us all life with a personal little acoustic version... many thought that the person filming it could be Alwyn!
After her acoustic version of "Call It What You Want," Swift then shared some romantic-y images that had everybody feeling all the love that Swift is feeling. It's all elevated even more when fans figured out that Alwyn could be the one taking the footage. If some of this stuff isn't boyfriend related though... right?
Swift is seen on horseback in one snippet, then shows off a fire that he built (the lyric: "He built a fire just to keep me warm") in another. Other clips include her painting, sipping on wine while giving a loving look to the camera, and more cutesy laughing and happy shots, including one where she throws a kiss at whoever is taking the video.
It's honestly, so free and happy... can you feel the love?
It's so, so sweet.
So, is it Alwyn filming? Fans wanted answers, with one tweeting: "IS JOE FILMING TAYLOR IN THAT INSTAGRAM STORY I NEED TO KNOW IF SHES SINGING IT TO HIM ‪@taylorswift13 ‪#CallItWhatYouWant."
Others were totally convinced, as one fan shared: "Taylor's Instagram story is bringing me to tears... KNOWING THAT JOE IS FILMING ALL OF THAT MAKES ME SO EMOTIONAL OMIGOD I CAN'T."
That's not all, as fans are totally feeling Swift's love for Alwyn in "Call It What You Want" and everyone is so on board with this relationship after Swift poured her heart out.
One fan gushed: "her vocals. the music video. the home videos. her instagram story. the lyrics. her happiness. love. joe. TAYLOR SWIFT."
Another added: "I just cried looking at Taylor's instagram story why am I like this she's so happy my heart is full ‪#CallItWhatYouWant."
For sure, there were a lot of feelings about Swift's video, with another fan commenting: "Taylor Swift's Instagram story has to be the most realest raw material we've seen in a while. I'm in LOVE ‪#CallItWhatYouWant ‪@taylorswift13."
Did I mention feels? This fan can't even: "I started watching Taylor's Instagram story and literally collapsed to the ground. call 911 I'm emotionally unstable." Breathe. We'll get through this.
And when you can't quite put the feeling into words, like this fan: "somehow an instagram story just made me feel something idk what, but i'm here for it ‪#CallItWhatYouWant ‪@taylorswift13." I so get it.
Still others are making some early predictions about the footage that Swift shared on Instagram, with one fan putting this out there: "OMG Taylor Swift's ‪#INSTAGRAM story HAS to be the ‪#musicvideo ‪#IDONTCARE I don't care I don't care ‪#please please please ‪#CallItWhatYouWant."
It could totally happen, as one fan got some old Taylor vibes from this video footage, tweeting: "taylor's instagram story reminds me of I'M ONLY ME WHEN I'M WITH YOU MV." Yes.
I'm fully on board with seeing more cute footage of her relationship with Alwyn in the "Call It What You Want" music video. They've kept everything so out of the spotlight, but this song really has given fans an inside look at Swift's new love.
Check out the entire Gen Why series and other videos on Facebook and the Bustle app across Apple TV, Roku, and Amazon Fire TV.