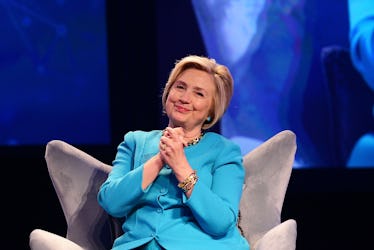 A Fox News Anchor Destroyed A Hillary Clinton Conspiracy Theory & That Was Surprising
Lisa Lake/Getty Images Entertainment/Getty Images
For months, Fox News has aired various blocks of coverage that featured hosts discussing the sale of mining company called Uranium One as an example of either potential — or outright — corruption perpetrated by former Secretary of State Hillary Clinton. And as the Justice Department's investigation into potential collusion between President Donald Trump's campaign and Russia has developed throughout, some of the network's personalities have gone further and charged that Uranium One is an example of "real collusion," with the president echoing that same sentiment himself on numerous occasions. On Tuesday, Nov. 14, however, video of Shep Smith debunking the Uranium One conspiracy theory showed that at least one of the network's on-air talents was not entertaining the narrative.
During the airing of Shepard Smith Reporting, the 53-year-old reporter juxtaposed the accusation being made against Clinton and the actual process that confirmed the $1.3 billion sale of Uranium One to a Russian-owned company.
"The accusation is predicated on the charge that Secretary Clinton approved the sale. She did not," Smith said during Tuesday's broadcast. "A committee of nine evaluated the sale, the president approved the sale, the Nuclear Regulatory Commission and others had to offer permits, and none of the uranium was exported for use by the U.S. to Russia. That, is Uranium One."
The Uranium One sale indeed had to be approved by board of nine members that served as heads of different federal departments, like Clinton and former Attorney General Eric Holder. The sale then had to be approved by former President Barack Obama.
A tweet that embedded a clip of Smith's commentary — which was shared by Matthew Gertz, a senior fellow at the media watchdog group, Media Matters — can be seen below. In the tweet, Gertz opines that Smith's reporting "amounts to a methodical annihilation of his own network's coverage."
Clinton and Uranium One has particularly been the subject of coverage from Fox News' opinion hosts, especially during the network's primetime hours. It is during those hours that host Sean Hannity has most zealously prosecuted the Uranium One deal as "what is becoming the biggest scandal, or at least one of them, in American history."
During the Tuesday, Oct. 17, airing of his show, for instance, Hannity made this assertion:
Hillary Clinton and her husband sold out America to the Russians while millions of dollars flowed to their family foundation. And in the process, Clinton helped create a massive national security risk for every man, woman, and child, giving Vladimir Putin control over American uranium, that material, as I said, you use it to make nuclear warheads.
On the day that former FBI Director (and current special counsel in charge of the Department of Justice's Russia investigation) Robert Mueller indicted a former Trump campaign manager, Hannity argued that America was facing a justice crisis because, in part, Clinton had not been charged for Uranium One.
"Will we have equal justice under the law? Or will America just be a banana republic, corrupt at its core?" Hannity argued during the Monday, Oct. 30, airing of his show. He went on to say that America has a choice of "equal rights for everyone" or allowing someone with "the right left-wing positions" to "sell out your country" and "get away with it."
President Trump, too, has used the line that Clinton and Obama orchestrated a corrupt deal. As far back as during his presidential campaign, Trump said during a speech in June 2016, "Hillary Clinton's State Department approved the transfer of 20 percent of America's uranium holdings to Russia while nine investors in the deal funneled $145 million foundation $145 million to the Clinton Foundation. $145 million."
Clinton and Uranium One have also been the subject of some of the president's recent tweets.
One Fox News host the president definitely wouldn't agree with, however, is Shep Smith, who accurately pointed out the true nature of the deal.