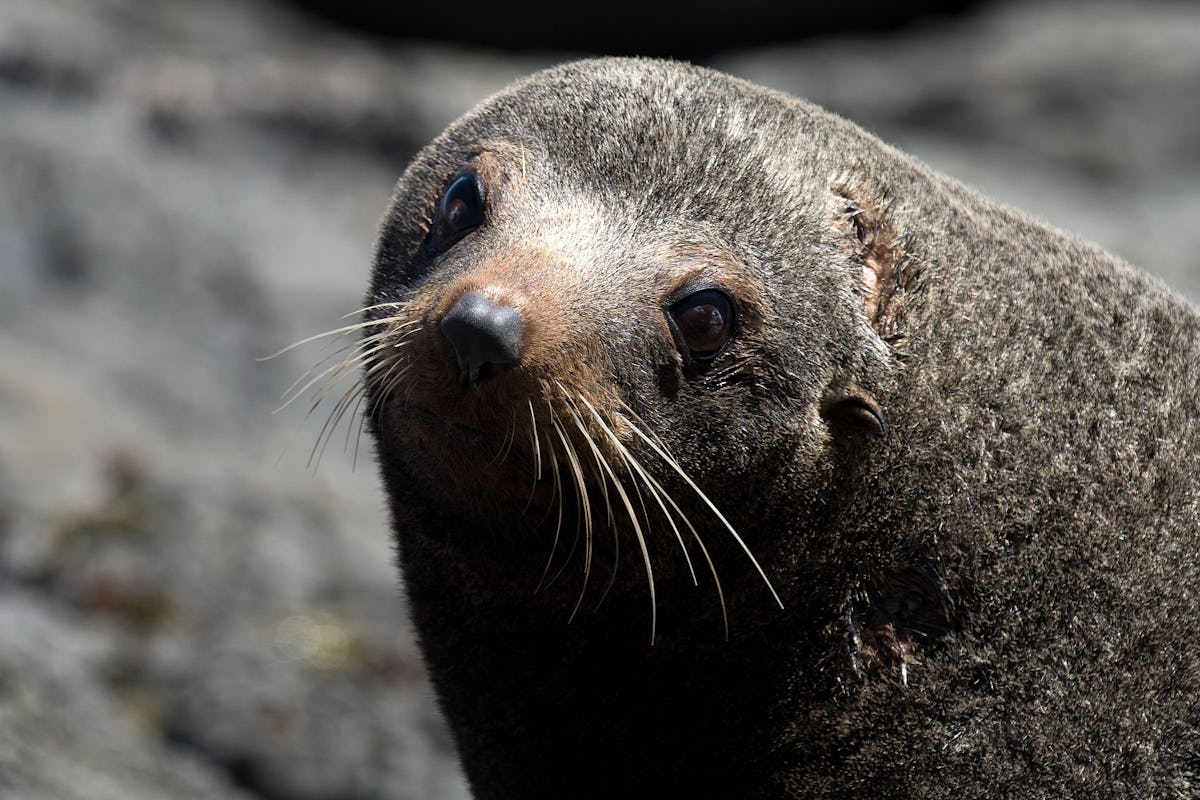 A Seal Blocked An Alaska Airport Runway & OMG This Video Is Amazing
MARTY MELVILLE/AFP/Getty Images
I've been on many delayed flights, but none of them have been held up because of an animal on the runway — let alone a 450-pound seal. Such was the case for all flights attempting to depart from and land at Wiley Post-Will Rogers Memorial Airport in Utqiagvik, Alaska on Tuesday, Oct. 24. A video of a seal blocking the Alaska airport runway has since gone viral, and it is a must-watch.
In the clip — filmed by Wiley Post-Will Rogers Memorial Airport foreman Scott Babcock — the giant seal can be seen casually lounging in the middle of the runway, completely unaware of the chaos its fun in the sun was causing behind the scenes. I. Am. Obsessed. This blubber ball is living its best life, and I aspire to this level of chill.
In his Facebook video starring Chill Seal, Babcock narrates what's happening in real-time. "So, it's just another day here at the ole Wiley Post-Will Rogers Memorial Airport. We've got some traffic on the runway. It's a seal," he says, zooming in on the bearded seal's snow-covered face. After letting us admire the animal's chill AF flight-delaying demeanor for a few seconds, Babcock continues,
What do you know? I'm out blowing snow, flight service calls me and says, 'Hey man, you've got an unwanted visitor.' There he is. So, Alaska Airlines is going to come out here and back taxi with their jet, and hopefully the jet engine will spook this guy off the runway. If not, I guess we'll get a toaster out. Awesome.
I still don't fully understand how the big ball of blubber managed to hop up onto the runway, but I can't stop watching the aftermath. The Alaska Department of Transportation and Public Facilities uploaded a statement to their Facebook page with an excellent seal pun for good measure. Beneath a photo of the celebrity seal himself, they wrote,
This big guy decided to do a little wintertime sunbathing on the Barrow Airport runway yesterday. #alaskaproblems North Slope Borough Animal Control eventually removed the seal and air traffic was able to resume. Aircraft operators should continue to be aware of low sealings at our North Slope facilities.
LOL at the use of "low sealings" instead of "ceilings".
Meadow Bailey, Alaska Department of Transportation and Public Facilities' communications director, spoke to Alaska Dispatch News via email to clear a few things up about the incident. Bailey told the publication that the seal "came around the runway, and our staff estimated it traveled about a mile" before settling on its inconvenient-yet-hilarious lounging post. In order to move the 450-pound creature off the runway, Bailey said staffers had to load it onto a sled and pull it away with a snow machine. Though animal sightings at Alaska's airports are common, seals are rare, according to Bailey. "On northern runways we see birds, caribou, polar bears and (musk oxen) … but no one recalls ever seeing a seal." What a thrill for Chill Seal to be the first of its kind blocking air traffic for humans!
While I'm sure not all seals are as chill as Chill Seal, I can say with confidence it has fans all over the world now. Babcock's Facebook video has garnered 81K views since it was uploaded on Tuesday, Oct. 24. Honestly, how can you not fall in love with this seal? It's impossible.
Just look at that face:
So cute.
I want a seal to delay my flight.
Check out the entire Gen Why series and other videos on Facebook and the Bustle app across Apple TV, Roku, and Amazon Fire TV.