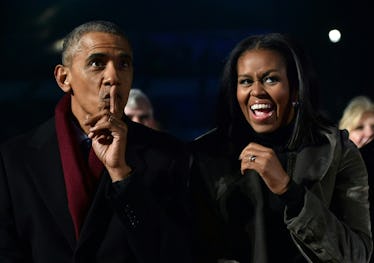 Barack Obama Surprised Michelle With The Cutest Message During PA Conference for Women
NICHOLAS KAMM/AFP/Getty Images
Tuesday, Oct. 3 was the Obamas' wedding anniversary, but Michelle Obama was in Philadelphia for a completely different reason. The former first lady had been on stage at the Pennsylvania Conference for Women, headlining the event's keynote luncheon alongside TV producer Shonda Rhimes. Then, to her surprise, came a special video of Barack Obama's anniversary message.
The former president began his message with this greeting:
Hey honey, Listen, I know you are with all these important, Pennsylvania women, and you're sharing the stage with our buddy Shonda Rhimes, but I had to crash this party because today we have been married for 25 years. Now, the idea that you would put up with me for a quarter of a century is a remarkable testament to what a saintly, wonderful, patient person you are.
Michelle Obama's Tuesday appearance before the crowd of about 12,000 people at the conference fell on the same day of — as former President Obama mentioned — their 25th wedding anniversary: Oct. 3.
It was on that day in 1992 that the couple was wed, around three years after they met at Chicago's Sidley & Austin law firm, where the former first lady — then known as 25-year-old Michelle Robinson — was assigned as a mentor to a 28-year-old summer associate named Barack Obama.
Within his surprise video message for his wife, former President Obama spared no words in describing what she has meant to them during all those years.
He said,
Not only have you been an extraordinary partner, not only have you been a great friend, somebody who could always make me laugh, somebody who would always make sure that I was following what I thought was right, but you have also been an example to our daughters and to the entire country. Your strength, your grace, your determination, your honesty, the fact that you look so good doing all this, the way in which you've always taken the responsibility for your own actions -- but also for looking out for the people around you -- is remarkable.
The footage of Michelle Obama's reaction to her husband's surprise can be seen in the video below:
The Pennsylvania Conference for Women is a 14-year-old event which describes itself as one aimed "to promote, communicate and amplify the influence of women in the workplace and beyond."
During her appearance at this year's conference, former First Lady Obama discussed a wide range of subjects, from the difference between life inside and outside the White House, to diversity in Congress, to why she has hope for the next generation of leaders.
Obama told the crowd at the Pennsylvania Convention Center on Tuesday,
They are more open, in ways. I think they are less tolerant of obvious inequities. I think that this generation will look at what is happening now in the world and they will say, 'This doesn't feel right because this wasn't what I was taught,'
Still, none of the moments from the conference seem to have stuck out more than her husband's dedication for their anniversary, which ended with this last note from the former president.
It's no wonder that, as people got to know you the way I got to know you, that they fell in love. It is truly the best decision that I ever made to be persistent enough asking you out for a date that you finally gave in, and I hope that you feel the same way. So, don't wanna interrupt the flow of what I'm sure is a fascinating discussion, but I figured you wouldn't mind maybe me parachuting in just to say how much I love you and how much I appreciate you.
Safe to say, she really didn't mind.