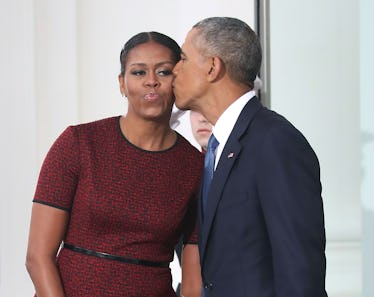 Michelle Obama Posted The Sweetest Message To Barack For Their Anniversary
Mark Wilson/Getty Images News/Getty Images
The former president and first lady are at it again. If you're ever in need of inspiration in the love department, these two are the epitome of #couplegoals. Michelle Obama's anniversary Instagram post for Barack will leave even the toughest of people reaching for the tissues — that's just how they role.
This year, Oct. 3 is extra special for them — it's their 25th wedding anniversary. To mark the occasion, Michelle posted a black and white throwback of the two on their wedding day. If that's getting you emotional, just wait until you read the caption. She wrote,
Happy 25th anniversary @barackobama. A quarter of a century later, you're still my best friend & the most extraordinary man I know. I 💕 you.
I swear, it might only be a couple of sentences, but Michelle's message comes across like pure poetry. It's sweet, simple, and genuine — just like the former first lady herself. Yes, we're definitely swooning.
These two are definitely hard to resist not only because of their love for one another, but their love for the country. Whether they're working hard to promote rights for all Americans or raising their daughters to be kind, hardworking individuals, love is always at the forefront of what these two do.
Speaking of love, it's one of Barack's favorite things to discuss. Our 44th president of the United States was known to help out his staffers who were contemplating popping the question to their significant others. In between running the country — taking down Al-Qaeda's top leader, legalizing gay marriage, and working on gun control — Obama also found time to share some solid advice in the marriage department. I challenge you to find another politician who is as hardworking and down-to-earth (OK, OK, we love former V.P. Biden, too).
Obama broke down the proposal scenario to his staffers with two very simple questions:
Do you love her?
Do you know for a fact she wants to marry you?
Wow! So clear! I see the light! He makes it sound so easy, doesn't he? Again, only two little questions, and it sounds profound.
But love advice isn't Barack's only specialty. Upon dropping off his daughter Malia at Harvard University — and sniffling as the Secret Service took him home — he provided some invaluable lessons for his eldest daughter as she embarks on this new chapter of her life. Honestly, it's not only solid words of wisdom for a college student, but for everyone.
First up: "Being responsible is an enormous privilege."
"These are the tools by which you can shape the world around you in a way that feels good," Obama said, according to People.
Secondly: There are many ways to promote change.
Change is something that can happen in any field, to anyone — something Barack emphasized to Malia. You don't need to be a politician in order to make a difference.
"If you are a brilliant engineer, you don't have to make a speech," Obama further said. "You can create an app that allows an amplification or the scaling up of something that is really powerful if you're someone who likes to care for people."
And finally: Nothing happens overnight.
This might be the hardest thing to accept, but Obama does make an excellent point — success doesn't come with the snap of your fingers.
"We get disappointed and we get frustrated," he said, according to People. "I always tell people that my early work as a community organizer in Chicago taught me an incredible amount, but I didn't set the world on fire."
Regardless of what they're sharing with the world, both Michelle and Barack have powerful messages that inspire love, kindness, and change. Happy anniversary, you two!