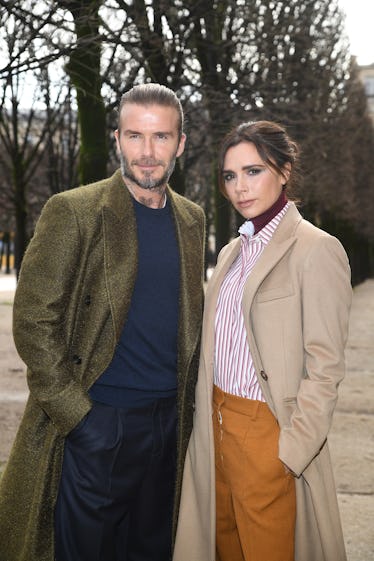 Victoria Beckham Just Gushed Over David Beckham, So Forget Those Divorce Rumors ASAP
Pascal Le Segretain/Getty Images Entertainment/Getty Images
Victoria Beckham and David Beckham are a freaking international treasure, and I'll be damned if anyone tries to get in the way of their never-ending, world-class, romance. So it really grinds my gears when I hear that people are throwing the term "divorce rumors" around in regards to this power couple. Have you no decency? Have you no respect? The Beckham's have been married for nearly two decades and have four amazing children together, so please give credit where credit is due. And about the gossip that the two were headed towards divorce: Victoria Beckham's comments about David Beckham clearly prove that anyone who thinks Posh Spice and Becks are splitting up is speaking absolute nonsense.
The sh*t started hitting the proverbial fan when speculation of David Beckham was cheating with their daughter, Harper's, teacher. Elite Daily reached out to David and Victoria's teams for comment on the cheating rumors, but did not hear back by the time of publication. But David Beckham's rep did give a statement to Mirror Online, slamming the baseless accusations. "There is no statement due or divorce. This is just fake social media news. This is all very bizarre and an embarrassing waste of time." Elite Daily reached out to David's team for comment on the report, but did not hear back by the time of publication.
Now, we're hearing from Posh Spice herself, who spoke at the Forbes Women's Summit on Tuesday, June 20, and praised David Beckham for being a supportive husband and father to their children.
"When I'm away, he is at home doing the school run, cooking dinner, helping with homework," Beckham said, via Forbes. "It's about being in a working partnership."
PREACH, MY QUEEN, PREACH!
According to Hello!, Beckham said, "I have the support of an incredible husband." She added that she does her best to be a good mother to her children and a good wife to her husband, as well as being a kickass businesswoman. She explained,
I try really, really hard. I try hardest to be the best mother ... I am trying to be the best wife and the best professional. When I get home I try to put the phone down and spend time with the children and spend time with David.
Juggling as much as she does, it's kind of impressive that she checks all of these boxes off. I can barely get myself together most mornings, and all I have on my plate to juggle are two dogs.
Through it all, though, both Victoria and David Beckham have remained steadfast in their belief that marriage is all about respecting the other person's life, and understanding that there's always a balance within your partnership. Victoria Beckham opened up to Elle UK in May of 2017 about how she keeps both her fashion line and her personal life steady. She said,
David and I both respect that each of us are very, very busy; we are both running big businesses, but we do put the phones down, and sometimes we just talk.
You see that, you guys? That's not one, but TWO times that Posh Spice puts her damn phone down to spend time with her family. So to all of you playing HQ Live, stop being so basic.
She also added that while mama's busy working during fashion week, her husband handles kid duty flawlessly. "The children will be in New York and he's already planned to take them to museums then out for dinner on Saturday night," she said, adding, "That's how you can show your support in a marriage, by saying, 'You know what? I've got this.' That's what makes a good partnership."
Bravo, Victoria and David Beckham. Kudos to you for being so freaking excellent. And shame on anyone who tries to say otherwise.