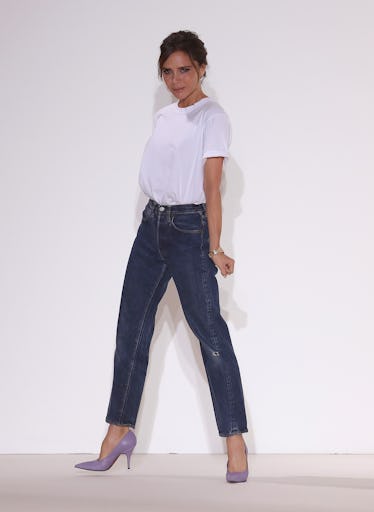 Posh Spice Partners With Reebok, Finally Realizes Comfort Lovers Need Fashion Too
JP Yim/Getty Images Entertainment/Getty Images
I live for a stacked boot. I yell, "You're doing amazing, sweetie," whenever I see a girl on the street in a killer pair of stilettos. But I'll tell you what I want, what I really, really want: the Victoria Beckham's Reebok Collaboration, otherwise known as super comfy clothes that still look chic AF.
Last night, whilst figuring out if I was going to Postmates dinner (again!), I found myself scouring Instagram to see what I missed during the day. I'm a big proponent of the mindless Instagram scroll over being an actual adult who cooks a healthy dinner. You will not believe my excitement though, when I scrolled past Victoria Beckham's post announcing her partnership with Reebok. Can you you even imagine all of the '90s nostalgia Posh Spice is about to gift us? I'm talking tracksuits, sporty vests, clunky sneakers rife for pairing with peekaboo socks. The limit does not exist with what VB is about to bring to the table.
If you're a big Posh Spice fan like I am, you are probably not surprised at this collaboration. During the spring 2018 fashion shows, Beckham sported a multitude of relaxed, off-duty styles featuring white T-Shirts and simple pants. She is a downright fashion icon, so who better to create a chic, athletic line of sportswear with Reebok?
Some may wonder how a high-end fashion designer like Beckham ends up collaborating with an athletic brand, but hear me out. Reebok has been reinventing its wheelhouse in recent years, bringing in the likes of Gigi Hadid, Ariana Grande, and Teyana Taylor. Each partnership has had its own particular vibe, from glam to sporty. Beckham is renowned for her classic, structured, ladylike pieces, so I can't wait to see her spin on street-friendly athleisure. Plus, Victoria Beckham x Reebok may be the only time I can actually afford to buy and wear a Posh Spice fashion design.
Think of the design possibilities. Not only can Mrs. Beckham draw inspiration from her time as an in-demand designer, but she can pull from her days in the Spice Girls. Don't tell me you weren't rocking glittery lipstick, neon scrunchies, and platform sneakers because you saw the Spice Girls wear them. Like, were you even a '90s kid if you didn't play Skip-It in a pair? In a press release from the brand, Beckham basically cements my hopes and dreams.
"To have the opportunity to challenge the traditional notions of fitness wear within a fashion context is something I have always wanted to do. I have long incorporated sportswear into my wardrobe and daily life and I am thrilled to be coming together with Reebok on such a dynamic proposition," said Victoria Beckham.
As a young girl growing up in the suburbs, I was surrounded by peers that lived in Hollister. But when I saw the Spice Girls on television, specifically Beckham, it totally inspired me to step outside the suburban comfort zone and rock what I wanted to wear. If I wanted to pair platform Keds with a dress and feel fancy, so be it. If I wanted to wear a sparkly tunic dress over jeans, more power to me.
I think Reebok and Beckham are about to snatch the souls of comfort creatures everywhere, with a line that will make us feel confident and sexy, even if the furthest we go is to Smoothie King.
The only con is that this line isn't coming out until late next year. Part of the Reebok Innovation Collective, this initiative will bring footwear and apparel for the next generation of performance and expression. In other words, if Reebok and Victoria Beckham have anything to say about it, 2018 will be the year of luxe fashion you can lounge around in.