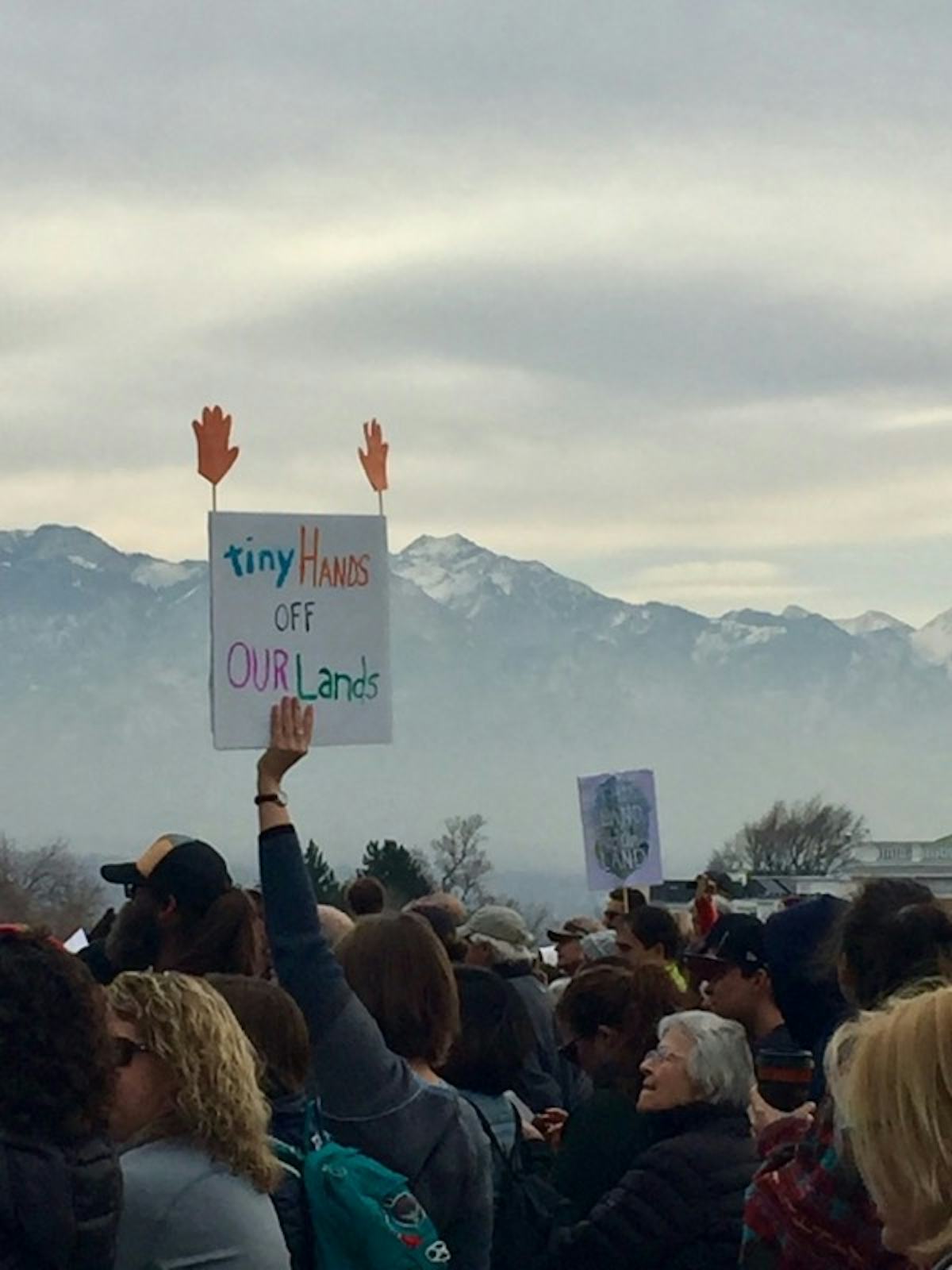 Trump's Trying To Shrink Utah National Monuments, & People Aren't Having It
Nafisa Masud
On Monday morning, Dec. 4, President Donald Trump visited the Utah State Capitol to confirm he'll shrink two of Utah's sprawling national monuments: Bears Ears and Grand Staircase-Escalante. In his remarks, Trump called his national monuments proclamation a "sensible" plan to prevent federal overreach while listening to the local community, but the actual locals (rallying outside) had a message of their own. Thousands of people protested Trump's Bears Ears and Grand Staircase-Escalante announcement in Salt Lake City.
As his motorcade drove past, protesters swore and screamed "Shame on you." Even better, a group of really creative Utahns dressed in white jumpsuits to spell "Go Home Trump" with their bodies on capitol's south lawn. As hilarious as that sounds, Trump's plan is seriously damaging. He's about to reduce these national monument territories by a whopping 2 million acres; land that features beautiful red-rock formations and more than 100,000 Native American cultural sites, according to National Geographic.
What does this mean? Well, previously protected federal land could now be used for logging and commercial farming, things that were heavily regulated in the past and could destroy the area's ecosystem. It's a huge affront to Native American tribes and nature-loving Utahns, who protested in the thousands at the Utah State Capitol on Saturday, Dec. 2, to make it known in a rally organized by Southern Utah Wilderness Alliance.
Derek Edwards, 28, a psychology student at the University of Utah who works at one of Utah's top ski resorts, was one of many protesting on Saturday.
Saturday was Alta Ski Area's opening day for Utah's skiers, but Derek thought this protest was more important, he tells me at the rally. "We need to speak up for the environment, because it can't speak up for itself," he says. "Anyone who's spent time down in southern Utah [where the monuments are located] knows that it's this really delicate landscape and something really special. We don't have a lot of spaces left without light and sound pollution where you can be in a pristine, original landscape."
For Edwards, it's personal. He's worked for other outdoor retailers such as REI and Backcountry, and it's frustrating to see Trump try to restrict an outdoor culture that's so prized in Utah. "Utah has kept me around because of its beauty," he says. "I moved around the country a lot growing up, and because of [these spaces] Utah's where I landed."
He's still optimistic, though. Edwards hopes that through social media and technology, young people can speak out for the environment and start working on more earth-friendly energy options.
Protesters (with some really funny signs) are already putting hashtags like #StandWithBearsEars and #SaveGrandStaircase to good use.
Mason Foster, 24, also looks to the future, but for another reason.
His daughter Zoë is just 15 months old, and this was already her second protest at the Utah State Capitol (they protested Trump's first travel ban against many Muslim-majority countries last January). Together, they hold a sign that says "15 months old and I'm still tired of Trump's [poop emoji]".
Foster and his wife go to lots of protests. "We're both students, and with a 15-month-old, we can't really donate money to the cause," he says. "But we can donate our time and add voices to the crowd, and I think that's so important."
Even though neither of them are from Utah, they've always made time for the outdoors. Foster was raised in northern Idaho, where he often went camping and kayaking, and he doesn't want Zoë to miss out on that experience. "If we lose these monuments, she can hike local trails, but it's just not the same," he says. "When you go to places like Bears Ears and Yellowstone, there's just so much to be learned from them. We have some friends who went to Bears Ears recently, and to them it was a sacred experience."
This spiritual aspect is exactly why five American Indian nations living in the same territory as Bears Ears and Grand Staircase are suing Trump.
The five tribes — the Ute Indian, Hopi, Navajo Nation, Pueblo of Zuni, and Ute Mountain Ute Tribe — say the president can't legally shrink the monuments, and they'll do whatever they can to stop him.
In a press conference Monday afternoon at the Salt Lake City Marriott City Center, Jonathan Nez, vice president of Navajo Nation, started the event with a warning. "We are resilient people," he said. "We will overcome, and we will see President Trump in court." He also mentioned the upcoming anniversary of the Treaty of 1868 between the United States and the Navajo Nation. "We promised that if the U.S. was ever in trouble, the Navajo Nation will back you up," Nez said. "Bears Ears is for all Americans, and we will fight for that."
Shaun Chapoose, chairman of the Ute Indian Tribe Business Committee, went even further to call Trump out. "You wanna make America great? Talk to the first Americans."
Chapoose talked about the monuments' importance in remembering history. "They're like a museum, a snapshot in history, except all the people were driven out because others wanted their resources." It wasn't the first time, he said, but they've learned from it now. "This isn't a slap in the face," he said. "It's a line drawn in the sand. And we've woken up."
The five tribes are preparing to file a joint complaint, which basically says Trump's action is illegal, as soon as possible. In the meantime, they're prepared to fight for the land that holds so much of their history, and Utah is right behind them.