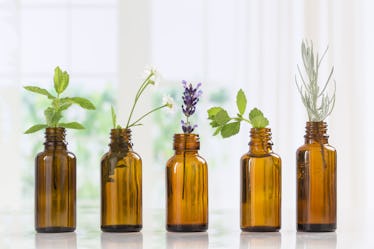 5 Essential Oils To Use Before A Workout That'll Get You Motivated & In The Zone
Shutterstock
Some days, it can be a serious struggle to convince yourself to hit the gym and work out. My go-to strategies for those days used to include strong cups of coffee or heaping scoops of pre-workout. But I recently discovered the awesome benefits of using essential oils before a workout, and honestly, I think it's safe to say that I won't be relying on caffeine anymore to help me get in the zone before the gym.
Essential oils are strong, potent, and incredible solutions for just about anything that you're dealing with. If you have a headache, rub some lavender essential oil on your temples. If you have a pesky cough that just won't go away, whip out some tea tree oil. And if you want to perk the f*ck up before a workout so that you can make all the #gains, there are plenty of essential oils right at your service to get the job done.
If you need a little proof, look no further: A 2013 study from the Journal of International Society of Sports Nutrition found that athletes who added just a tiny bit of peppermint essential oil to their water showed significantly improved performance and better respiratory function overall.
So, the next time you're tempted to reach for a scoop of something sugary or soaked in caffeine to get you motivated before a workout, try one of these five essential oils instead to get the boost you're looking for.