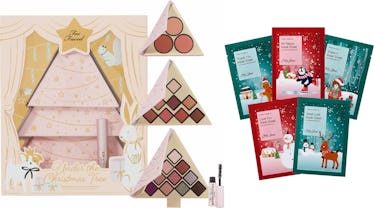 Ulta Just Dropped Its Holiday Gift Sets & They'll Make You Cry Tears Of Joy
Ulta
Figuring out what to get your most special people for the holidays every year can be a major source of stress. How do you choose something that won't break the bank but that they'll actually like? Ulta's 2018 holiday gift sets are here to solve all of your shopping woes, at least those associated with shopping for fellow beauty enthusiasts. The retailer has just dropped a slew of new incredible offerings at all different prices starting at under $10, so no matter what your budget looks like this year, you'll be able to treat those you love to some seriously great gifts.
Whether you're shopping for someone who is more into skin care than the latest blendable eyeshadows, for your nail art-obsessed friend, or for a total makeup fiend, there will be an Ulta gift set that will set their eyes alight. From a K-beauty cleansing set to a selection of mini OPI polishes, the selection is as varied as it is quality. Check out some of my favorite gift sets below or head to Ulta.com to see their holiday gift guide. Then, get to choosing. There's no better feeling than getting your holiday shopping over with before the holidays technically even hit. That's a wrap!
Magic Stick
Tarte's cult favorite concealer and blending sponge can now be bought in one handy little set, meaning any blemishes or dark circles that are giving you grief won't stand a chance for long.
All-In-One
This five-piece makeup set boasts some of BareMinerals' best-selling eye, lip, and face products, all wrapped in an appropriately metallic pouch. It includes a six-shade eyeshadow palette, a high-shine lip lacquer, a high-volume mascara, a powder blush, and the brand's signature loose powder. In other words, it's an entire makeup look in one.
Oh, Sheet!
Five sheet masks for $8? That's a steal. Especially considering they're by K-beauty mega brand Tonymoly and that each one targets a different skin concern.
Lip Service
Have a friend in your life that is all about a bold lip? Then this set of 12 mid-size NYX Slip Tease Full Color Lip Oils might make her dreams come true. Ranging from a bright purple to a chocolatey brown, each hue will go on with a silky-smooth texture and boast a satin-matte finish.
Branch Out
This gift set is definitely for the adventurous makeup lovers. Shaped adorably like a Christmas tree, it includes three breakaway palettes, two of which feature eyeshadow pans and a third that features a blush, a bronzer, and a highlighter. As an added bonus, the set also includes a deluxe-size tube of Better Than Sex mascara, which is arguably Too Faced's best product.
The K Way
Think of this as an all-inclusive Korean skincare starter kit. It includes Julep's Love Your Bare Face Hydrating Cleansing Oil and Detoxifying Cleansing Stick, cult-classic exfoliating Charcoal Konjac Sponge, and Boost Your Radiance Reparative Rosehip Seed Facial Oil. The products promise to work together to give you your clearest, glowiest skin ever. (Maybe this is one gift set you'd rather keep for yourself?)
Good Tips
Ten mini bottles of some of OPI's best loved shades. Who wouldn't want that?
On The Go
Have a friend with insatiable wanderlust? This kit of four travel-size products is perfect for them. It includes FORMULA 10.0.6's Soak Your Face hydrating sheet mask, Wipe Your Face Off make-up removing wipes, Sea Side Glow peel mask and Thirst No More moisturizer, and is ideal for when long plane rides require a quick refresh en route.