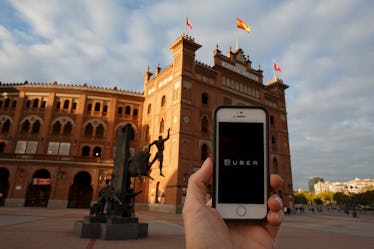 Uber Is Making It Easier To Find Your Driver & I Couldn't Be More Excited
Pablo Blazquez Dominguez/Getty Images News/Getty Images
My phone is filled with apps I've opened once and have fallen into the wasteland of, "I'm too lazy to delete that app that does something I can't remember." But out of all the things crowding my homescreen, there's one app that's been basically worn out (if apps worked like my favorite pair of jeans): Uber. It's so convenient and has really done a lot for my travel woes, but the app's about to get even better with Uber's new pickup features that'll make it even easier to find your driver. Seriously, thank goodness because easy is good, but easier? Even better.
I use Uber for a lot of different things. Most of the time I need it because I'm out too late and want door-to-door service (door-to-pizza service). But other times they're doing maintenance on thesubway, and I need to get to work, or I'm headed to the airport for an early flight. Whatever you're using the app for, Uber's new pickup features have pretty much every situation covered.
According to a press release shared with Elite Daily, on Monday, July 16, Uber is rolling out three main changes to the current app: Pickup Messages, Spotlight, and guaranteed on-time pickups.
I'm gonna start with my favorite of the new features: Spotlight. Ever had the experience of waiting outside for your ride and see that the little car on the screen has arrived at the location, but you don't see your driver? Well, Uber's fixing that with Spotlight. No more calling your driver or them trying to figure out which person in the crowd is you. With the Spotlight feature, light your phone up with a special color and hold it in the air (and wave it like you just don't care). Your driver will be alerted to your color so they know who to look for.
Is that not genius? I'm excited for the end of the awkward "I'm in front of the shrub shaped like Italy, where are you?" phone calls.
The Pickup Messages feature will also put an end to trying to figure out which Uber car you're supposed to hop into. This feature allows you to send a quick message to your driver with either a pre-populated message like "be right there," or help your driver identify you with a customized message like "I'm wearing a sparkly dress and my highlight game is on fleek." Pickup Messages will make it less of hassle when you're running a minute late or can't find your ride.
Maybe you can't find your ride because it's late? Don't worry, because Uber is making sure that won't happen.
With this last feature, Uber is now guaranteeing on-time pickups. If you have a flight to catch or an important interview, you can schedule your ride in advance. Not only will you have peace of mind because your ride is taken care of, but if for some reason your driver doesn't show up in the scheduled time frame, Uber will give you credit towards your next ride. As an obsessively on-time person, I'd say schedule for earlier than you need just in case so even if the driver is late you still get there on time and you have credit for next time. Seriously, it's the best guarantee since 30-minutes-or-less pizza.
Most of us use Uber at least once a week (four times if I'm being completely honest), so I know you're all ready to use these awesome new features. On July 16 check your app to see if the features are loaded up. If not, try updating it and get moving! Because I know you have a happy hour to get to and that rosé isn't gonna drink itself.