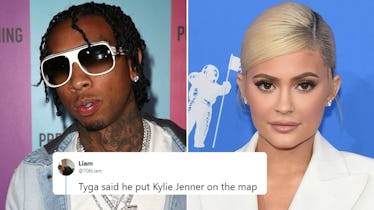 Tyga Kind Of Took Credit For Kylie Jenner's Lip Kits, Which Twitter Is Not Pleased About
David Livingston/Jamie McCarthy/Getty Images Entertainment/Getty Images
There was a time when Kylie Jenner and rapper Tyga were a thing, but that ship sailed quite a while back. Now, Jenner is kickin' it with rapper Travis Scott and their beautiful daughter Stormi — and of course, her beauty line, Kylie Cosmetics is still pure fire. My absolute favorite product from her line is clearly her Lip Kits, because they have turned my beauty world around (don't @ me on this), but according to Tyga, he should be the one receiving part of the accolades for Kylie's lip line, and not Jenner herself. Welp, this is a head-scratcher, folks. In fact, Tyga's comments taking credit for Kylie Jenner's lip kits are causing such a stir, that fans on Twitter are sharing their feelings (and hint: it's basically all outrage).
Tyga went on Nicki Minaj's Queen Radio show on Apple Music's Beats 1 station and had no problem spilling the tea on his feelings about his ex, Kylie.
"She always had a platform and she was always destined to be what she was going to be regardless, but, when I stepped in, there was a lot of codes being taught," the 28-year-old "Taste" rapper said. "It was like, you could do this, you should start this, you should start doing your hair like this."
Oh, so what he's trying to tell us is that he was simply mansplaining and telling Jenner — who was a teenager when the couple dated — the right way to look!
But it gets better, you guys, because he not-so-subtly decides to drop the fact that he's the one who's responsible for helping Jenner come up with certain "colors and names" for her lip line. He said,
I had a lot to do with all that, which I don't need credit for. I don't need to go online and tell people I did this and I'm the one helping her coming up with these colors and names on her...lip line. It was a lot of stuff.
Hm. Interesting.
Naturally, Twitter didn't take this very well, and stood up for Jenner, noting that her success had nothing to do with Tyga (and, if anything, it was the other way around):
Others were quick to point out that *obviously* Tyga had some sort of influence over Jenner when they were dating... because she was only 17 years old.
Tyga also claims that he's totally cool with the way things ended between him and Kylie Jenner back in 2017, saying, "I'm not a bitter person...if we break up, we break up. We had a good time and kept moving, and we went our separate ways and we're both doing good," he said.
Then, Nicki Minaj had the cojones to ask Tyga if he missed Jenner at all.
It just doesn't end, fam.
Tyga responded, saying, "Nah, I'm good. I'm good love, enjoy," with a laugh.
He also claims that he's got zero beef with Jenner's boo, Travis Scott, despite the fact that Scott's album, ASTROWORLD has made it to number one on the Billboard Top 200 chart during its debut week.
"We ain't got no beef, we ain't got no beef. It's his time right now, you gotta let it ride. I ain't got no beef with him," Tyga said.
Mhmm.
You can listen to the whole interview here, but be warned, it's a little NSFW, so stick those headphones in if you're at your desk:
There you have it, friends. Tyga is totally cool with Kylie Jenner — but just had to let it be known that he is the inspiration behind her lip line. Who knew?