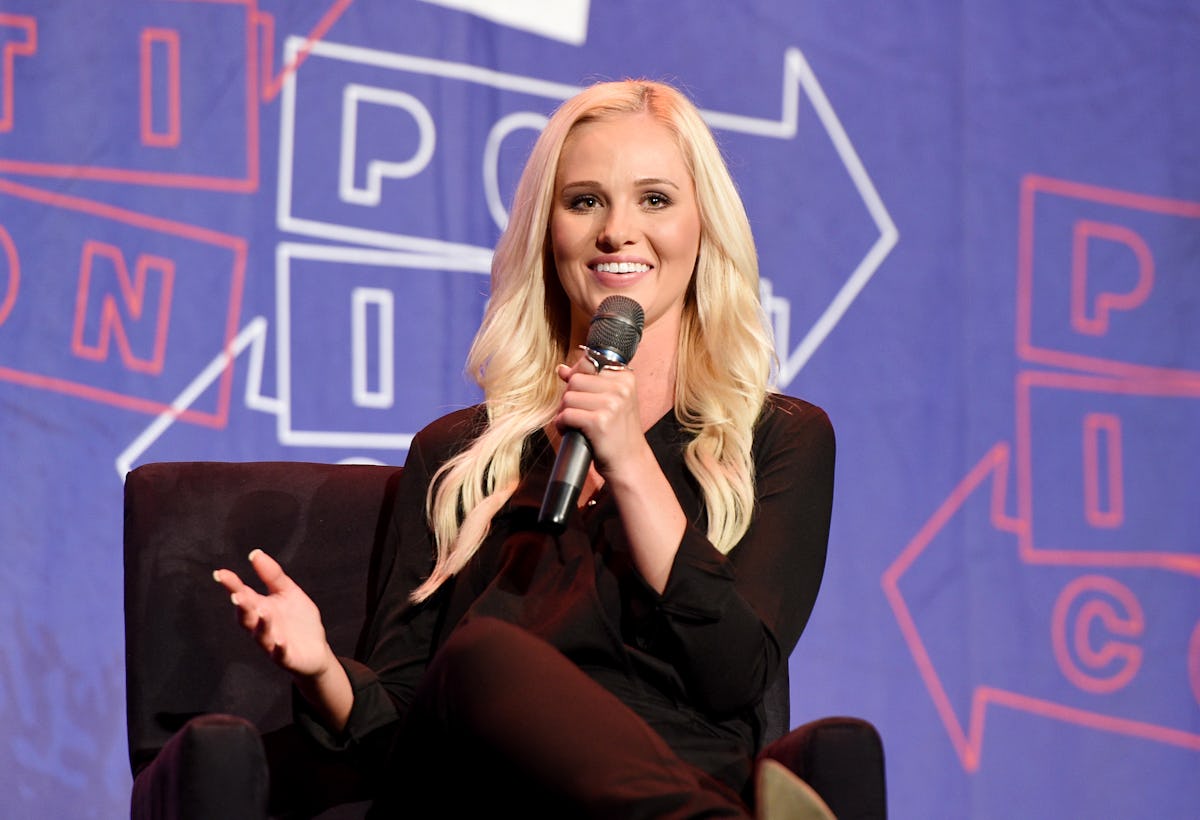 Twitter Is Calling Out Tomi Lahren's Flag Halloween Costume For Blatant Hypocrisy
Joshua Blanchard/Getty Images Entertainment/Getty Images
It's a pretty safe bet that during Halloween someone will wear an offensive costume and it'll make its way onto social media and cause widespread outrage. But the latest costume to make waves on Twitter was attacked for a very different reason. Fox News contributor Tomi Lahren wore an American flag-themed costume, and the tweets about Tomi Lahren's Halloween costume are roasting her.
Lahren originally posted to Instagram on Oct. 28, where she shared her American-flag themed costume. It features a "Make America Great Again" bodysuit, red tutu, an American flag fanny pack, and what I can only assume are wings made out of USA flag print. In the post Lahren writes, "What am I? Well if you're a conservative, I'm American AF. If you're a lib, I'm 'offensive.'"
Tomi Lahren is no stranger to public backlash. The conservative political commentator and vocal Trump supporter put herself in the national spotlight for her controversial comments while hosting her show Tomi on conservative website The Blaze. And her costume this year definitely inspired a mass response on social media— for a very good reason.
Social media overwhelmingly called Lahren's choice of costume out as hypocritical. Considering that she has consistently called out NFL athletes for the "take a knee" protest that escalated this year, claiming that it was disrespecting the flag, well, critics might have a point.
Twitter users were not having it.
Back in August 2016, Lahren "shredded" athlete Colin Kaepernick for his protest during the national anthem while playing for the San Francisco 49ers. And she's doubled down since then, as the protests escalated.
In September, she said on Fox News:
You want to get political? Fine. Put it out there, disrespect the country, but don't for one second think people like me are going to let it go unquestioned. No. I'll be happy to remind you what that flag and that anthem mean because maybe, just maybe, it's bigger than you and your temper tantrum.
She also later questioned why the players were kneeling, saying, "I bet if we asked 100 players, we would get 100 different answers."
Back in 2016, Kaepernick chose to sit down during the national anthem in order to protest police brutality and racial bias. When asked about his decision to not stand during the anthem, Kaepernick told NFL.com, "I am not going to stand up to show pride in a flag for a country that oppresses black people and people of color."
President Donald Trump went on a Twitter rampage in September 2017 once the protests made national headlines, calling out the NFL for condoning players' decision to kneel. Trump also called out the organization at a rally for then-Alabama Republican Senate candidate Luther Strange, saying that players who protest should be fired. And then the decision to protest made a comeback at the start of this year's football season, when players from multiple teams decided to kneel or sit as opposed to standing during the national anthem.
Given Lahren's harsh critique of the NFL's protests, she set herself up for criticism with the costume she donned on Halloween.
According to the U.S. code, "No part of the flag should ever be used as a costume or athletic uniform." This clause is filed under Title 4, Chapter 1, Section 8, "Respect for flag." Many Twitter users cited this in their attacks against Lahren.
Lahren, however, doesn't seem to agree. She posted a response on Twitter following the backlash, asserting that she was in no way disrespecting the flag.
The statement she provided comes from The American Legion, which is a wartime veterans service organization, so this answer is technically an unofficial one. And it definitely clashes with what the U.S. code states.
This issue could be debated well into the night. But for now, we can all enjoy the Twitter feud that Tomi Lahren's "patriotic" costume inspired.
And whether you agree with Lahren or not, we can all agree on at least one thing: that costume looked tacky AF.