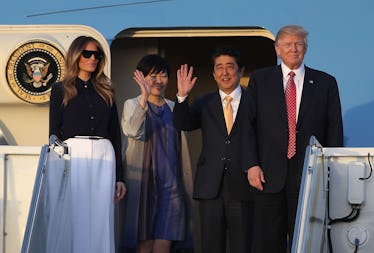 Melania Trump Did A Calligraphy Lesson In Japan & The Jokes Are Amazing
Joe Raedle/Getty Images News/Getty Images
FLOTUS's artistic skills got a hilarious overhaul thanks to some Redditors with a knack for Photoshop. On Nov. 6, during a state visit in Japan, she joined the country's first lady Akie Abe in a fourth-grade class where she wrote the first character for the word "peace" in Japanese. Now, tweets and memes about Melania Trump's calligraphy lesson have the Internet cracking up.
The first lady is visiting Japan as part of President Donald Trump's 12-day, five country trip to Asia as the commander in chief. On her second day on the trip, Trump joined her Japanese counterpart on a visit to the Kyobashi Tsukiji Elementary School where the pair were greeted by 200 school children. Though FLOTUS looked rather unmoved at other points during the trip, when she saw the kids she gave high fives, hugs, and even made a peace signs for photos, according to a report from CNN.
Then came time for the calligraphy class. Asked if she wanted to give it a try herself, Trump said she was all in. "Fantastic, would love to," she said, according to a CNN report. She also called the calligraphy "beautiful characters." Trump had her own set of brushes, ink, and paper to execute the Japanese characters for the word "peace." Abe, meanwhile, wrote the other character for the word.
Everything appeared to go as planned from there, until the Internet got ahold of an image of the first ladies holding up their creations.
Reddit unleashed a "Photoshop battle" on the first ladies and the results were, well, creative.
One handy artist reimagined the grades that the first ladies would have received for their work. FLOTUS did not fare well in this image.
In another version of the meme seen around the world, Trump has a little tic tac toe fun. Given her smile in the original image, it would seem she can get down with this redo of her calligraphy — if only she knew it existed.
There's a literal graffiti interpretation of an "S" made from lines that many an American teen will recognize from middle school or high school.
This clever version is the most detailed of them all. It starts off with the line, "To be fair, you have to have a very high I.Q. to understand Rick and Morty. The humor is extremely subtle." (Rick and Morty is an animated series on the Adult Swim network and the photoshopped text is a meme that fans of the show use to respond to criticism — If you didn't know, you might think it was a reference to President Trump's remarks that his own I.Q. "is one of the highest," according to CNN.)
The image that takes the win, though, is actually another Japanese character. A Redditor made it so that Trump's paper was the character for the word "help."
While Trump's calligraphy was embraced by the Internet for all of the wrong reasons, the Japanese students themselves seemed appeared to enjoy her visit to their class.
After the calligraphy lesson, the Trump and Abe went to Akasaka Palace, one of Japan's state guesthouses, for lunch. They had salad, soup, a variety of meat, and a "tamago" omlet, a rolled egg dish, CNN reported.
While many people apparently had a good laugh at FLOTUS's expense, some weren't quite ready to make light of it.
After all, "peace" could be viewed as an interesting choice as the Trumps visit Asia during a period of heightened tensions with North Korea.
The photoshopped calligraphy is hardly the first meme to come out of the Trump's five-nation visit to Asia. The first lady's meeting with a K-pop star in South Korea went viral on Nov. 7 when Minho, a member of the K-pop group Shinee, made a surprise appearance at an event where Trump was speaking. Also on Nov. 6, President Trump earned the ire of the Internet after he dumped a box of fish food into a koi pond (though he wasn't alone, because Japanese Prime Minister Shinzo Abe poured his in first).
While the president had his own gaffe, the first lady wasn't to be upstaged. Next time, perhaps Melania shouldn't hold her paper up.