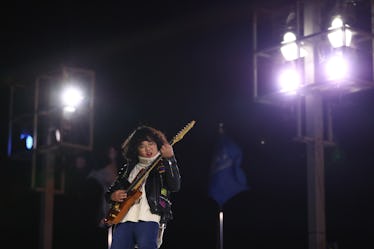 This Teen's Guitar Performance At The Olympics Is So Rad & Twitter Can't Handle It
Dean Mouhtaropoulos/Getty Images Sport/Getty Images
I know Olympic medals are reserved for athletes, but if Yang Tae-hwan doesn't win some kind of award for his latest guitar performance, I'm protesting. He's just 13 years old, but he seriously became my hero after I watched him shred his guitar in front of thousands of onlookers. And other people obviously agreed, because the tweets about Yang Tae-hwan at the Olympics closing ceremony are nothing but pure praise.
On Sunday, Feb. 25, the 13-year-old stole the show, donned in typical rock star attire: blue jeans, a turtleneck, and a classic leather jacket. For the show, he performed his own rendition of Antonio Vivaldi's "Winter," a concerto from his 1725 symphony The Four Seasons, and Yang absolutely killed it. For a kid who was already playing better than adult rock stars at just the age of 10 (as seen in videos on his YouTube), he showed us that he's definitely a prodigy that deserves so much celebration. Twitter users agreed and aired out heartwarming praise for his performance at the ceremony.
Twitter users were hyped over Yang's performance.
And I mean, can you really blame anyone for being totally stunned? That was epic. I am now headbanging, classically, forever.
One user wrote that the performance moved him to tears, writing, "Just watching the Winter Olympics closing ceremony; that Korean lad on the guitar and their version of Vivaldi's 'Winter' from the Four Seasons reduced me to tears it was that fantastic. If you didn't see it, Google it, he was phenomenal."
Too real.
But he was just one of many epic acts at the Olympic ceremony.
Aside from the rocker's performance, there were tons of other phenomenal acts. According to NPR, a group of loop dancers presented a dance that "defies gravity" after Yang's act. The site reported,
On the sloped stage reflecting the image of a guitar, loop dancers perform a mesmerizing dance that defies gravity. Geomungo players perform together with the band Jambinai. Korean dancers present a modern interpretation of a traditional dance while a solo dancer performs Spring Dance of Nightingale.
There was also an epic performance by K-pop queen CL who took over the stage in full blown, Lady Gaga-esque manner. She performed her single "The Baddest Female," and 2NE1's hit song "I Am the Best," alongside more than a dozen dancers who paraded around the stage holding torches and giving the sauciest moves.
And even though those acts were more than enough, CL's performance was followed by a set from fellow K-pop group EXO, who killed the stage with their smashing singles, "Growl" and "Power." The set included flashing lights, fireworks, holographic animals — I mean, the works. To summarize all of tonight's epic performances, I'll just say I was fist-pumping and head-nodding along with the musicians from my sofa. They were just that epic.
The theme of the closing ceremony was "Next Wave."
When speaking about the theme of the closing ceremony, Oh Jang-hwan, the director of ceremonies for the PyeongChang 2018 organizing committee, told Olympics.org that it was "Next Wave," which makes the inclusion of young performers seem fitting. He said:
It will have a festival atmosphere to recognize and celebrate the athletes' hard work and achievements at the Games. We have created a show that looks towards the future; it includes quite a lot of traditional Korean humor and fun elements to add to the party feel.
It sucks that the Winter Olympics is gone for the next four years, but I'm glad that they gave us so many amazing acts to hold us over until then. Besides, after the success of this year's event, there's no telling what the 2022 Beijing Games will have to offer. I'm betting it'll be twice as phenomenal.