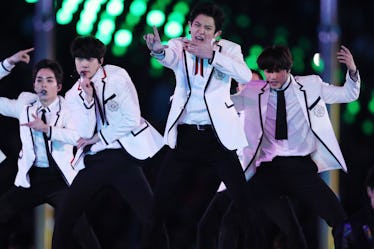 This K-Pop Song Has The Perfect Meaning For The Winter Olympics Closing Ceremony
Maddie Meyer/Getty Images Sport/Getty Images
Sadly, the 2018 Winter Olympics are officially over. The closing ceremony at PyeongChang Olympic Stadium on Sunday, Feb. 25 marked the finale of the games, but the closing ceremony itself still had a few awesome performances for viewers to enjoy. Not only did one K-Pop group expertly belt out one of their hits, but EXO's "Power" lyrics were also the most fitting end to the Winter Games.
EXO took to the stage toward the end of the closing ceremony, and their performance was definitely worth the wait. The highly popular K-Pop boy band performed two of their best songs, but the meaning behind "Power" really stood out as the lyrics so perfectly represent the spirit of the games. The song starts out with the lyrics (as translated from Korean to English by Genius Lyrics):
Don't hesitate, move on/There's no time/Your future depends on your imagination/Throw away your fear, we can do it, it's okay/All the keys are in your possession
Seriously, they haven't even hit the "power" of the chorus yet, and the lyrics are already inspiring AF. Even though it might seem like the message to "throw away your fear" is more fitting for athletes about to begin the games, it's always a good move to not let fear control you. Plus, speaking to athletes who might not have achieved all of their Olympic goals, EXO reminds them to "move on" and that "all the keys are in your possession."
Oh, and I think it's totally fair to say that you aren't required to be an Olympic athlete in order to glean inspiration from these lyrics. I like to think that EXO is an equal-opportunity source of lyrical inspiration. Just check out this chorus:
We got that power power/Whenever you see me/Whenever we feel each other's hearts/Power power/We become stronger/Turn the music up now
We got that power power/Through this music/When we sing with one voice/Power power/We become stronger/Turn the music up now
Power power/Turn the music up now
OK, I can easily see this song anchoring a killer workout playlist or being that jam you turn on when you really want to pump yourself up.
There's also a feeling of unity coursing through these lyrics, and the Winter Olympics closing ceremony is all about athletes from different nations coming together as one. When the chorus of "Power" mentions how you get the power "whenever we feel each other's hearts," I immediately think of the athletes walking together side-by-side in the closing ceremony.
Different from the more formal procession of the parade of nations in the opening ceremony, the athletes do not have to walk behind their respective flags in the closing ceremony. According the official International Olympic Committee's factsheet about the closing ceremony, there is an entry of the nations' flags, but only one representative from each nation is needed to carry those in. Once the flags are in, the athletes may proceed in whichever fashion they choose as they enter the closing ceremony "en masse."
One of the last verses hammers home that feeling of Olympic unity:
You used to dream even when you weren't asleep/I hope you never forget/Today, let's burn it up with fun together/Like we've become one, feeling feeling/So turn me up
After singing about how to "become one," EXO's "Power" ends on an inspiring note for athletes and viewers alike:
When tiring days come, remember babe/The beautiful us/The power to get up again/It's in you/We got that
I'll give you a minute to process an entire boy band calling you "babe." OK, you good? Now you can focus on "the power to get up again." If you're ever feeling down or in need of some real motivation, jamming out to "Power" will remind you that "it's in you."
Honestly, I'm not sure if they could have picked a better song to embody both the competitive spirit of the games and the importance of unity among the competing nations. It doesn't hurt that it's also a catchy song that will totally pump you up any time you're feeling a little low.