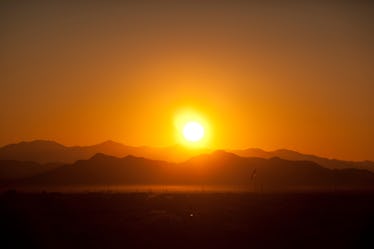 The Winter Solstice Is Finally Here & Twitter's Trying Its Hardest To Stay Positive
Happy winter solstice, my frigid friends! The shortest day of the year is indeed upon us, and people are not holding back when it comes to saying how they really feel about the lack of daylight and extended nighttime. Seriously, just scrolling through a few tweets about the winter solstice basically sums up the catastrophe that was 2017 as a whole, in the most cynical, sarcastic way possible.
Real talk though, if you casually converse with basically any human, the majority of people you talk to will wholeheartedly agree that this past year was rough AF. If you don't believe me, the phrase "why 2017 is the worst" literally autofills on Google, so if that doesn't tell you something was up this past year, I don't know what will.
Anyway, the arrival of the winter solstice this year is essentially the perfect opportunity for people to bitch and moan about yet another thing that went wrong in 2017 (even though the Earth's tilt away from the sun does occur every single year, regardless of how bad or good the year actually was — just sayin').
But honestly, Twitter is a great place to just let it all out (as long as it's limited to 280 words of the #feels), and these users did just that. Trust me, people aren't holding back in the slightest.
If you're searching for some relatable winter solstice complaints, look no further. These nine tweets are relatable AF and will speak straight to your soul.