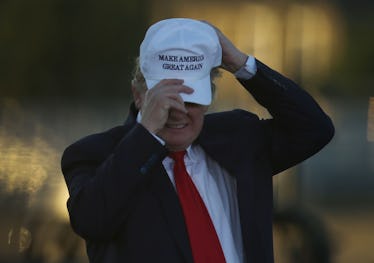 Donald Trump Is Selling MAGA Swag For Memorial Day & People Are Pissed
Joe Raedle/Getty Images News/Getty Images
Memorial Day weekend is commonly known as the first unofficial weekend of summer, and many people take the time to remember the reason behind it. Memorial Day, of course, is a day of observance meant to honor U.S. soldiers who have died while fighting in service to the United States. The holiday falls on Monday, May 28 this year, but there are plenty of thoughtful remembrances for fallen soldiers throughout the weekend. There is one celebration of the holiday that is not getting the best reviews. Tweets about the Trump Store Memorial Day sale show that people are so not here for this marketing ploy by the president.
People began sharing screenshots of the sale on Sunday, May 27. According to a photo shared on Twitter by Andy Lassner, executive producer of The Ellen DeGeneres Show, you can get 25 percent off Trump Store gear when you "USE CODE: REMEMBER." From the image, some of the items available for purchase include: a "Trump/Pence" koozy complete with an American flag design, a "Trump/Pence" flag, an American flag-themed hat with a gold bald eagle, and the classic red "Make America Great Again" hat.
People immediately began going in on President Trump for using Memorial Day to make money.
It's no secret that big brands usually pounce on the opportunity to offer their customers better-than-normal savings with big deal days around holidays like Memorial Day, but a Memorial Day sale that employs "REMEMBER" as the discount code coming from the sitting U.S. President, who is also Commander in Chief of the U.S. Armed Forces, did not sit well with many of President Trump's constituents.
Given that the sale takes place during Memorial Day weekend (and much of the merchandise is designed with the likes of the American flag), some people even brought into the conversation President Trump's recent comments about respecting the American flag, U.S. troops, and standing during the national anthem.
The untimely sale and his feelings about respecting the troops and the flag seemed contradictory to some.
Following the NFL's new rule that requires players to stand during the national anthem, President Trump told Fox & Friends on Thursday, May 24, "You have to stand proudly for the National Anthem or you shouldn't be playing. You shouldn't be there. Maybe you shouldn't be in the country."
Ever since former San Francisco 49ers quarterback, Colin Kaepernick, knelt during the anthem during the 2016 NFL season, there's been much debate about what kneeling during the anthem means in terms of respecting the troops. While this is the point President Trump has latched onto, this debate doesn't have roots in what Kaepernick's true intent was. In 2016, Kaepernick said it was about policy brutality and racial bias, telling NFL Media,
I am not going to stand up to show pride in a flag for a country that oppresses black people and people of color. To me, this is bigger than football and it would be selfish on my part to look the other way. There are bodies in the street and people getting paid leave and getting away with murder.
Then-candidate Donald Trump said of Kaepernick's kneeling at the time in 2016, "I have followed it and I think it's personally not a good thing. I think it's a terrible thing, and you know, maybe he should find a country that works better for him, let him try, it's not gonna happen." When the kneeling to protest police brutality against people of color continued throughout the entire league in the 2017 season, Trump lambasted the participants as unpatriotic and disrespectful to the troops and the American flag.
It's these kinds of statements from Trump regarding respect for the flag and the troops that have many people collectively rolling their eyes at Trump's attempt to make money off of a solemn holiday like Memorial Day.
Perhaps Trump will take heed of the criticism and avoid the 25 percent off Memorial Day sale next year. Or maybe you'll get just as infuriating a coupon code from the Trump Store on Veterans Day for a chance to collect all the "Keep America Great" gear you can get your hands on. I guess we'll have to wait and see.